Mexican Distillery Brings Out The Costliest Tequila Bottle
3 Dec 2010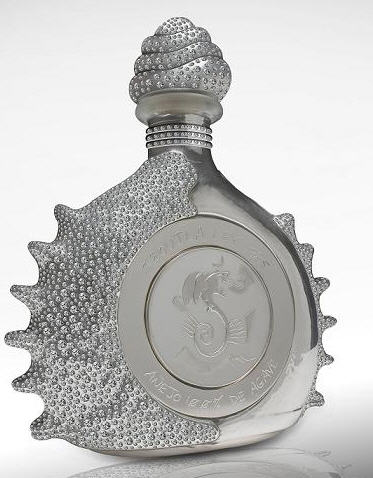 The Mexican distillery brings out the costliest Tequila bottle to market. You can own this tequila bottle by shelling out 3.5 million dollars. Now you may think what is so great about a mere tequila bottle? Well, you are not looking for a mere Tequila bottle, but a diamond encrusted special tequila bottle.
The tequila named as "The diamond sterling" or "Diamonds Law" was unveiled by Mexican distiller Hacienda La Capilla on November 21, 2010. "The diamond sterling" is made of to 3 kilogram layer of platinum and over 4,000 diamonds, which totals to 328 carats. "The diamond sterling", which was crafted by renowned designer Fernando Altamirano was first showcased on Reuters Television in the city of Mexico. It is believed that Altamirano was assisted by a group of 20-30 craftsmen. This seven year old 3.5 million dollar bottle carries 1.3 liters of tequila.
Fernando Altamirano holds the Guinness Records for designing the most expensive tequila bottle that was sold for US $225, 00 in 1996.
Hacienda La Capilla is located in the state of Jalisco, and the distillery offers wide range of tequilas in terms of aroma, flavor, and body. The Hacienda La Capilla tequila range comprises of tequilas such as Tequila Hacienda La Capilla Rested; Tequila Hacienda La Capilla White; Tequila el Amo White and Tequila el Amo Rested; Edicion Especial; Ley .925 Blue and Ley .925 Rested. Mexico is fondly called the "land of great tradition in tequilas," and Hacienda La Capilla has lived up to its reputation and brand name by overseeing each minute detail of the tequila production right from the time of tequila leaves selection to the production of fine products. By introducing the diamond encrusted tequila bottle to the world, Hacienda Capilla has not only personified the word elegance, but also added another feather of achievement to its cap. This Hacienda creation will be exhibited across all "tequila appreciating hotspots" in the world right from Paris, London, Switzerland, Monaco, and Spain, to Dubai.
Image courtesy: cognac.com
Mexican Distillery Brings Out The Costliest Tequila Bottle