10 Recipes to Make With Pomegranate
24 Nov 2010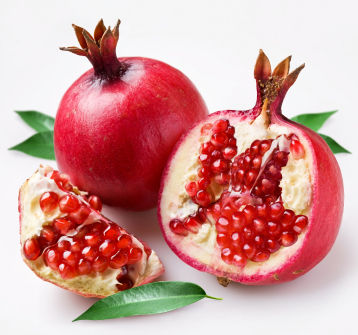 My cousin came running to me enquiring about the "10 recipes to make with Pomegranate ". My cousin said that everyone at his school seems to have gone crazy about pomegranate because they are all set to celebrate the National Pomegranate Month.


Indians and Persians have incorporated pomegranate juice in their diets, but the Americans and Canadians started promoting it seriously only since 2002. The pomegranate juice is rich in minerals and antioxidants.

 
You can try out making these 10 pomegranate recipes on the account of the National Pomegranate Month.
Pomegranate jelly:  This unusual jelly can be a suitable replacement for many of the high fat jellies used by you. During the Thanksgiving you can perhaps replace cranberry jelly with this yummy pomegranate jelly. You can enjoy it with breakfast toast, pancakes and biscuits.

 
Cranberry–Pomegranate sauce: Instead of regular cranberry sauce you can opt for cranberry–pomegranate sauce and you can serve it during Thanksgiving too!  You can prepare and serve this special sauce on all special occasions. This Cranberry– Pomegranate sauce can be a base for a glaze on your Holiday Ham.

 
Herbed Pomegranate Salsa: This bittersweet salsa is one of the chief attractions of Mexican as well Persian cuisine.  The Pomegranate seeds and tart membrane adds magical appeal to the dish blended with herbs and pepper!

 
Spiced Pears and Pomegranate: This fruit dessert can be served with a wide variety of cheeses.  You can easily prepare and serve this dessert on all special occasions.  You can also try  serving it with yoghurt sweetened with honey.

 
Pomegranate Shortcake: This recipe is as interesting as the name.  The best thing about this recipe is that it hardly takes 10 minutes to prepare it. You only need to add a spoon of pomegranate on a small slice of pound cake and serve it after garnishing with whipped cream and honey.

 
Spinach Pomegranate Salad:  This nutritious and delicious salad can be made with feta cheese and pomegranate seeds.  You can serve this flavorful, and colorful dish during Thanksgiving or Christmas, I am sure the diners will yearn for more of it. 

 
Pomegranate Relish:  The Pomegranate relish prepared using fresh pomegranate seeds taste good with the roasted turkey.  I think Pomegranate relish goes well with all recipes   can be a good option for all diabetics who are wary of trying something sweet.

 
Pomegranate Stew with Chicken (Khoresh Fesenjan): This is a typical Persian Pomegranate and Walnut stew.  It packs in the richness of walnuts and health of the pomegranate. You can serve this stew with Basmati rice.

 
Seared Lemon Pepper Tilapia with Creamy Pumpkin Seed Vinaigrette Salad topped with Pomegranate Seeds:  The name may sound pretty confusing, but you can easily prepare and serve it during any special occasion. This unique lemon pepper filled tilapia fillets can be served as the appetizer.

 
Apple and Pomegranate crisp: I think this is a beautiful festive fall dessert, which derives a unique identity from visually enticing pomegranate seeds and apples.  You can also try out  various permutations and combinations with the ingredients to make it more appealing.
Image courtesy:sp.life123.com
10 Recipes To Make With Pomegranate