How To Celebrate National Vichyssoise Day

11 Nov 2010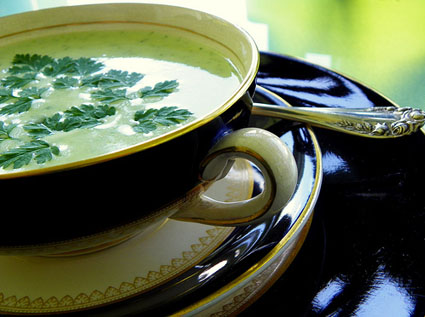 Just when the ado around the thanksgiving day had started to make buzz, news around the National Vichyssoise Day stormed the virtual news rooms! By the way, did you know that there are more than 35 food days celebrated with grandeur in the entire Europe? Anyway, before getting down to the business of How To Celebrate National Vichyssoise Day, let's make a quick review on facts!  
What is National Vichyssoise Day?
National Vichyssoise day is basically a food holiday celebrated on November 18th every year.  
What is Vichyssoise?
Vichyssoise is a Fresh style creamy and rich soup with ingredients like onions, pureed leeks, cream, chicken stock and potatoes. Unlike the traditional soups, this one's served cold. It is a unique hybrid of French-American culinary styles.
Origin of the holiday
The credit of the invention of the soup goes to Louis Ritz, chef with Ritz, New York. It is believed that the food expert came up with this global-appealing soup right after the opening of the restaurant. The humble chef states that the concept of the soup has been heavily inspired from the cooking style of his mother.
Celebrating National Vichyssoise Day
There isn't a better way to prepare the classic Vichyssoise really... but it's hard to hold back from trying new stuff! Therefore, the best way to welcome the upcoming National Vichyssoise day is by adding new creations to the traditional soup.
The best option is to make the soup a sea-food delight. Pieces of poached prawn, drops of prawn oil, dash of chives, carefully added to the traditional creamy leek-potato soup is a must try. Try this invention and you are sure to relish the dominating fishy flavour of the soup. Not only the soup will taste heaven, but the appeal of golden-orange fresh prawn beautifully garnished with chives would make it a delight to watch as well!
One full bowl of this creamy soup is sure to make your lips greasy and moist even hours after savouring it. However, this year, go light and make this soup a healthy delight. Cut down on the heavy cream or replace it with skimmed milk. Increase the quantity of chicken stalk to avoid compromising on the flavour.
Arrange a party and invite all the Vichyssoise lovers you know. Serve the new versions and give them a surprise. Send out e-invites and personal invitations to ensure a huge gathering of all the foodies in this food holiday.
Here's wishing a happy National Vichyssoise Day to all!
Image credit- slashfood
How To Celebrate National Vichyssoise Day