What To Do With Thanksgiving Leftovers
6 Nov 2010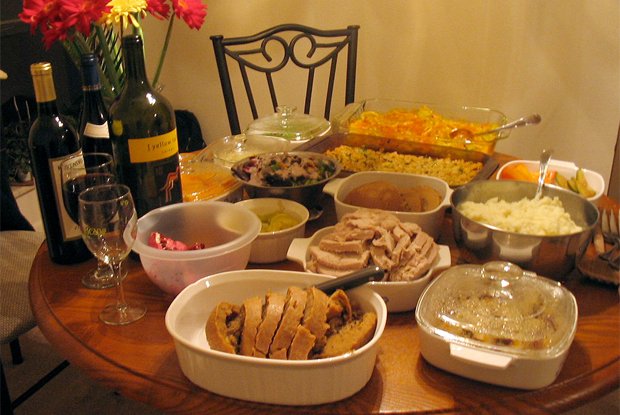 Thanksgiving is associated with food, friends and fun. After a wonderful celebration I have heard many of my friends grumbling "What to do with these thanksgiving leftovers"? And it becomes little bit challenging to ask others to eat the same food again and again. But with my experiences and experiments I can say that dealing with thanksgiving leftovers is not an issue at all. With little creativity and fewer ingredients you can easily convert these leftovers into second or third supper, to the much delight of your family.
Whatchagot Soup:  "Hey Good Looking...Whatcha Got Cooking"? These lines have shown me better way of dealing with my leftover turkey. This reviving turkey-veggie soup can be easily whipped up using all the available ingredients like rice, canned broth, dried herbs, etc. I bet of all the thanksgiving leftover recipes, whatchagot soup is the simplest.

 

Catchall Casserole: As the name suggests this casserole appeals to all. My family loves this casserole to bits. You only need lots of veggies, herbs, cornbread topper, and rich and creamy sauce to make this wonderful casserole. I bet your family will find it hard to resist.

 

Pesto Pasta Toss: Pesto Pasta can be easily prepared and served too. Pesto Pasta is highly nutritious and delicious too. You can prepare them in many ways depending upon the leftovers, but I prefer to make my pesto toss with lots of broccolis, cauliflowers, tomatoes, leftover turkey, dried tomato pesto, and parmesan cheese.  You can be choosy about parmesan cheese, but in my opinion they make the toss more sumptuous.

 

Veggie frittata: I love to call it 'anything frittata' because you can add any vegetables with the turkey while preparing this frittata. This can be served during the brunch time and I am sure your family and guests will enjoy it to bits.  You need eggs, milk, black pepper,  salt, vegetables ( you can put as many vegetables as you can), dried herbs, butter, leftover meat, and shredded cheeses to prepare this frittata .

 

Turkey Tacos soup:  You can easily organize a light leftover fiesta by cooking this Turkey Tacos soup. You can use all available ingredients to make this soup. You can combine the turkey with regular kitchen staples such as jarred salsa and frozen corn. I bet it would not take you more than an half an hour to make this soup.

 

Cran-Turkey Enchiladas: I think this is the best way to trick your family to eat the leftover.  You need leftover turkey and cranberry sauce, black beans, salsa, Monterey Jack cheese, and onion to whip out crowd pleasing enchiladas.  I have heard many of my friends saying that sumptuous enchiladas are tasty break from the regular gravy, mashed potatoes, and sweet potato soufflé that are usually prepared from the leftovers.

 

Herbed Turkey and Waffles:  This waffle tickles the taste bud of any eater with its elegant cooking style and the rich ingredients.  You can prepare a creamy sauce using Parmesan cheese, and then team it with roasted turkey, thyme, and sage, now your herbed turkey is ready to be served. For an added taste perhaps you can top it with cranberries.
Image courtesy: couponsherpa.com
What To Do With Thanksgiving Leftovers