How To Use Star Anise In Kitchen

19 Oct 2010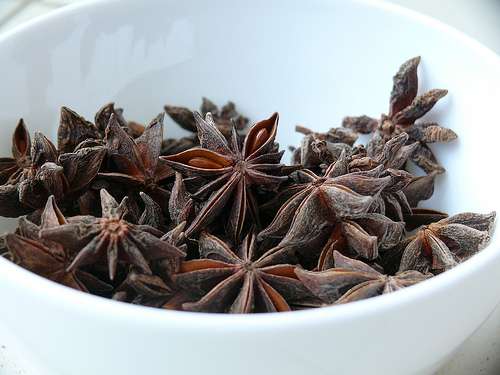 Star Anise is used in either powdered form or as a whole spice depending on the recipe. Hence it is essential to know how to use star anise in kitchen to get the best flavor out of this star shaped anise flavored spice. An important spice widely used in Indian, Chinese cuisines, Malayan and Indonesian cuisines. In Indian cuisine, it is one of the key spice in making Garam Masala and in Chinese Cuisine, it has a special place in the traditional "Five Spices". 
Uses of Whole Star Anise
Star Anise is a strong spice having a sweet taste. An important ingredient in meat, poultry and seafood recipes, though it is used in confectionaries sometimes. Using star anise as whole or segments is preferred where the flavor requirements are light. For the famous Indian Hyderabad Biryani star anise is an important spice that is added to boiling rice. Vietnam cuisine vegetable pho uses whole star anise which is dry roasted before vegetable stock is boiled. It is used widely in Chinese red cooking, where it is boiled with the meat and vegetables. For flavored rice and pulao recipies in India, star anise is used to impart a sweet flavor. Some parts of India use star anise in a very different way, it is packed in a muslin cloth and added during the cooking process. Once the recipe is done, the star anise bag is removed. This process keeps the flavors intact while the star aniseed is not seen in the dish. It is important to dry roast or sauté whole star anise before using it in any recipe to bring out the flavors of this spice which is otherwise not achievable.
Uses of Powdered Star Anise
Powdered anise is used widely in Indian spice mix called as masala. Masala is a mix of many or few exotic Indian spices, dry roasted and powdered. Indian Garam Masala and chai masala is incomplete without Star Anise. "Chinese five spice'' powder has this powerful spice as a key ingredient. Thai tea also uses star anise for its medicinal properties. Before grounding the anise seeds, it is usually dry roasted to free them from any moisture and bring out the aroma. Dry star anise grinds perfectly, is more aromatic and safe to preserve for a long time. Powdered star anise can also be re-roasted before using if it has lost it flavor over a period of time.
Powdered star anise is very powerful tasting spice. The key to using star anise in kitchen is adding this spice in very small quantity, recommended in small pinches, it saves one from over seasoning a dish. You can always add more if required.
Picture Courtesy: flickr.com
How To Use Star Anise In Kitchen