How To Use Kaffir Lime Leaves
18 Oct 2010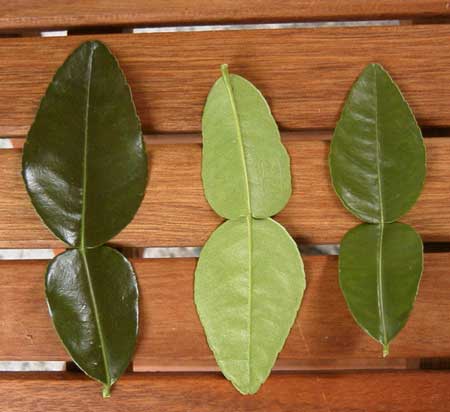 Kaffir lime leaves are the aromatic leaves that are used commonly in the Thai, Cambodian, Indonesian and Asian cuisines. Learn how to use Kaffir lime leaves in your sauces, soups and dishes with our brief reference article.
Kaffir leaves come from the Kaffir lime tree which is grown in Indonesia. The leaves are emerald green in color and look like two separate leaves joined end to end.  Kaffir lime leaves can be bought from the store in both fresh and dry forms.                                         
Using Kaffir lime leaves
Kaffir lime leaves can be used in a variety of dishes. The ways one can add the Kaffir lime leaves in the dish have been discussed below.
-It is essential that whole Kaffir leaves should be simmered when being used in the preparation of curries and soups.
-To prepare fish cakes such as Tod Mun or dishes similar to that, one should shred the Kaffir leaves very fine and then use them in the cake.
-For use in salads, the Kaffir leaves chosen should be fresh, young and tender. It is advised to not sprinkle dried Kaffir leaves in salads.
-The midrib and the stalk of the Kaffir leaves have a bitter taste, so one should remove these parts before simmering the leaves or using them in any dishes.
-One can also use Kaffir leaves to prepare a paste called Kreung which can be used as a base to cook dishes.
-While preparing flavored rice, some of the Kaffir leaves can be used along with Jasmine flowers to give a unique flavour and aroma to the dish.
-Kaffir leaves can also be used to prepare chicken, pork or lamb marinade.
-Kaffir leaves can be sliced into thin slices or shredded and can be used to artistically decorate the salads, soups, curries etc.
Thai cuisine is popular for its unique flavours and aromas. Kaffir leaves are often used in the Thai cuisine. Now that you know how to use Kaffir lime leaves in preparing numerous dishes, you can go ahead and enrich your food with the fragrance  and flavors of the Kaffir leaves.
Image credit: importfood.com
How To Use Kaffir Lime Leaves