Where to Find Kosher Food at Disney World
5 Oct 2010
Wondering where to find kosher food at Disney World? There are several places where to find kosher food at Disney World Orlando. Disney World receives millions of visitors each year and this fairyland also has special provisions for people who have special dietary needs, including visitors who must have kosher food. This whole arrangement has been done by the Disney World to make sure all the visitors can enjoy the best that this place has to offer and yet feel at home. There are numerous eating venues in this fairyland which offer kosher foods all the time. However, there are some food pockets in Disney World, where you have to make a special request to provide you kosher meals.
Eating kosher in Disney World
There are two ways of eating kosher in Disney World. One way is to dine in the quick-serve eateries (also called counter service eateries) and the other way is to eat at the table-service restaurants.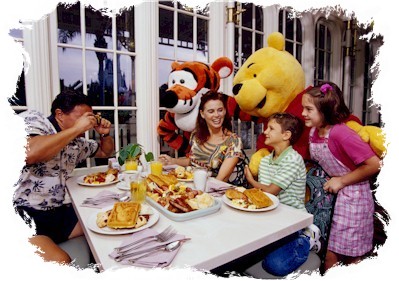 Quick service kosher meals
The counter service eateries sell meals all the time, so you can walk in any time, buy your kosher meal and enjoy it right inside the eatery or bring it back to your room in the hotel. All these quick service eateries sell pre-packaged kosher foods, which are just warmed right before you and then, handed out. The kosher food available at the Walt Disney World is OK Labs certified. So, there's no place left to worry about the quality of your packaged meal. Each of the four parks in the Disney World has one kosher restaurant that can provide kosher foods even without the customers notifying them in advance. These include the following eateries -
#Cosmic Ray's Starlight Café (Tomorrowland, Magic Kingdom)
#Liberty Inn (American Adventure Pavilion of the World Showcase, Epcot)
#Pizzafari (Discovery Island, Animal Kingdom)
#ABC Commissary (Backlot, Hollywood Studios)
Table service kosher meals
Kosher meal orders are taken in most table service restaurants of the resort which accept reservations. All you have to do is dial (407) 939-3463 or (407) WDW-DINE and make the kosher dining reservations 24 hours in advance. However, some restaurants also require you to place your order 48 hours in advance, if you are planning for a kosher meal. Carry your credit card along to get a guaranteed dining reservation.
Special kosher dining
You can make your kosher dining experience more unique and a memorable one by arranging for Dinner Shows and kosher Character Dining. Character Dining means having the popular Disney characters like Winnie the Pooh or Cinderella do the rounds in the restaurant and stop by at your dining table to say "hello" and pose for photographs with you. The dinner shows like Hoop-Dee-Doo Musical Revue and Mickey's Backyard BB make your dining all the more special. To enjoy a special kosher dining such as these, make your reservations 72 hours in advance.
Picture Source: disneyworld.orlandovacation.com
Where To Find Kosher Food At Disney World