Chiles - Scoville Ratings
There are two ways of classifying chile peppers—by their heat and shape. In 1912, pharmacist Wilbur Scoville invented a test to measure the hotness of peppers by diluting the pepper until the heat was just perceptible on the tongue. The Scoville rating is measured in multiples of 100; he rated a bell pepper 0, while a Japanese chile came in at 20,000 on the Scoville scale.  

Scoville Chile Heat Chart

VarietyRatingHeat LevelSweet Bells; Sweet Banana; and Pimento0Negligible Scoville UnitsMexi-Bells; Cherry; New Mexica; New Mexico; Anaheim; Big Jim1100-1,000 Scoville UnitsAncho; Pasilla; Espanola; Anaheim21,000 - 1,500 Scoville UnitsSandia; Cascabel31,500 - 2,500 Scoville UnitsJalapeno; Mirasol; Chipotle; Poblano42,500 - 5,000 Scoville UnitsYellow Wax; Serrano55,000 - 15,000 Scoville UnitsChile De Arbol615,000 - 30,000 Scoville UnitsAji; Cayenne; Tabasco; Piquin730,000 - 50,000 Scoville UnitsSantaka; Chiltecpin; Thai850,000 - 100,000 Scoville UnitsHabanero; Scotch Bonnet9100,000 - 350,000 Scoville UnitsRed Savina Habanero; Indian Tezpur10350-855,000 Scoville Units


 Hottest Chile Pepper in the world is found in India!

Naga Jolokia also called Bih Jolokia in some places of Assam (Bih = Poison, Jolokia = chile pepper; in Assamese). Other names are Bhut jolokia (probably due to its ghostly bite or introduction by the Bhutias from Bhutan poison chile), Borbih Jolokia, Nagahari, Nagajolokia, Naga Morich, Naga Moresh and Raja Mirchi (the king of chiles). These are all the same chile but named differently at different places (a common problem when trying to identify chile peppers). The Naga name may be due to extreme hotness represented by the aggressive temperament of the warriors of neighboring Naga community. Chile is known as Morich in Bangla.



In 2000, scientists at India's Defense Research Laboratory (DRL) reported a rating of 855,000 units on the Scoville scale, and in 2004 an Indian export company called Frontal Agritech obtained a rating of 1,041,427 units, which would mean a new world record, being over twice as hot as the Red Savina pepper. One thing to keep in mind is that the same pepper grown from the same seed stock can very greatly in heat range from year to year. This is caused by climate, weather and soil conditions that change each growing season. This is why test results can have a wide range. To some real degree the hottest can come down to how much rain and 90F+ degree weather or lack thereof a crop receive.
I have a Naga Jolokia potted up in a 5 galon pot still not bloomng in my family room to over winter along with about 2 dozen other seriously hot world chiles.  We love hot ad spicey food and chiles are perennials and many produce only after the second year.
I am waitng for my plant to bloom as it is a very long season chile.  I planted it out in May and it has grown and is beautifu, but no blossoms as yet. -  so here is what Janie of Cross Country says has to say about my to be chiles:

All photos Copyright © Cross Country NurseriesBHUT JOLOKIA - extremely hot; Habanero Type; 2 to 3 inches long by 1 to 1.5 inches wide; medium thick flesh; matures from green to orange to red; pendant pods; green leaves; 24 to 30 inches tall; Very Late Season; from India; this is the chile we have been reading about for years;in the Guinness Book as the hottest chile known, rating 1 million Scovilles!!!; C.chinense. 
I bought my plant as well as a couple dozen othrs again this year from
and am always delighted with the healthy plants I receive every year.  I have been ordering from herfor seveal years-no affliatio just a very happy gardener.  Shehips these hardy plants in great shippers so they rrive from Pa. to Ca in great condition.  BTW chiles do well incontainers!
  I am not very good at germinating chile seeds.  I am an ace with tomatoes, etc, but the hot chile seeds can be stubborn requiring long periods of soil heat to germinae.  Some hot cilesmut first be eaten, digested and pooped by birds to germinate-no kidding. <smile>
 For beautiful photos of many of the world chiles:
http://www.chileplants.com/search.asp?SearchButton=Go&ImageHeader=ChilePhotos&Page=1
Habañero: Small lantern shape; thin-walls; fruity taste and extreme heat (100,000 to 350,000 Scoville Units). Red, orange, white and chocolate colours when ipe with chocolate being te hottest andbitter.They typical are a long season chile requiring 120 days to rippen.  Use sparingly when fresh ied, orowdered in fruit salsas, ceviche, jerk sauces, and Caribbean curries.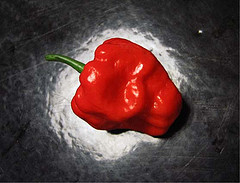 Red Savena Habanaro™ is the hottest in this category at 577,000 Scoville heat units, twice as hot as regular Habanero Pepper, 65 times as hot as Jalapeno Pepper.  My favourite source for the powder as well as sauce is  Mild to Wild Pepper & Herb Company-no affliation just a long time satisfied customer.
Just one gram can cause detectable heat in 1,272 pounds of sauce, and over 8 pounds of fresh Red Savina™ Habanero Peppers are required to make 1 pound of dried ground pepper
Asian/Thai: Small slender, thin-walled fruits; usually green ripening to red;Â various top note flavours of fruitiness or metallic taste; high to extreme heat (8,000 to 100,000 Scoville Units). Very attractive plants are heavy producers. Use red ripe, fresh, or dried, to add heat to curries, marinades, soups, and stir-fries. Extremlyhot chiles grown by Hmong tribes become cream coloured when ripe and over 100,000 covile units.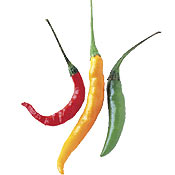 Thai-Chile-Lime Sauce
8 to 10 Thai chiles  (Dragon as above photo)
2 cloves garlic
1 tablespoon date palm sugar - available Asian markets
2 tablespoons freshly squeezed lime juice
1 tablespoon fish sauce (nam pla - Golden Boy is excellent brand)
Remove stems from chiles and place in mortar. De-seed if you must. I use red chiles or a combination of the red, geen, yellow.
Crush chiles with a pestle to make a paste. Add the garlic and palm sugar and grind the mixture well. Stir in the lime juice, fish sauce, and a drop or two of water if it looks too thick.  This is a great condiment for many Thai dishes including fried rice.
http://ifood.tv/recipe/gai_phrik_khao_phat
Cayenne: Long, curved peppers with two cells and thin wrinkled skin; generally green but can be yellow or purple and rippen to red; medium to high heat (30,000 to 60,000 Scoville Units). These are the mostcommon chile in India.  It is regulrily usedfresh as agreen chile, but dried when ripered.
 Peruvian Purple is a mild and pretty chile 3/4" to 1" long.
Chile/Anaheim/New Mexico/Paprika/Pasilla: Long and tapered, with fairly thin walls and two cells; ripen from green to red; mild to medium heat (1,000 to <8,000 Scoville Units). Many varieties, some of which grow well in short northern climates and at high altitudes. They have mild chile flavors; best roasted and stuffed, or chopped and added to ethnic dishes; good for drying when red ripe. The Paprikas have deep rich flavors; allow to ripen fully, then dry and grind up. Papra is commonly smoked before drying and grinding in Spain and ungary.  Add to stews, goulash, moles, and soups.
A mixture of  serano, Thai, and ancho peppers
Hot Cherry: Tomato-shaped, thick-walled green peppers; ripen to red; medium heat (5,000 to <8,000 Scoville Units). They have a rich, sweet flavor; use for pickles or poach them and stuff with meat or cheese as the Italians prefer.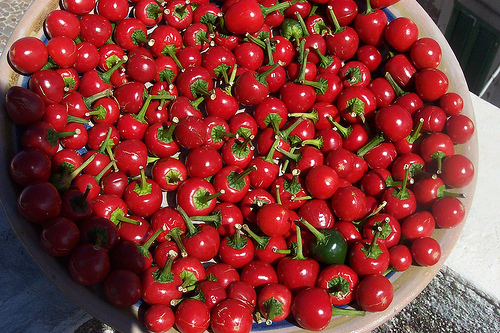 These are great stuffed with fresh mozarrela and procuitto and drizzled with olive oil.
Hungarian Wax/Banana: Long and conical, tapering to a point; medium thick walls; ripen yellow to red; mild heat (1,000 to 10,000 Scoville Units). Adaptable to many climates. Use yellow or red ripe for pickles and chutney, or add them to salsas and fried dishes.
Jalapeño: About 3" to 5" long with thick meaty walls; deep green; medium to high heat (5,000 to 60,000 Scoville Units). Numerous varieties include Jalapeños for short northern climates, selections with yellow and orange stages of ripeness, and others that are highly productive. Harvest Jalapeños green or red ripe (my favourite); use fresh in salsas, pickle, and grill and add to tacos or burritos. Smoke dry red ripe—to make chipotles.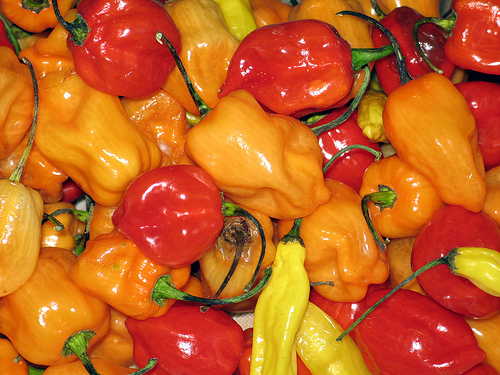 Ornamental/hot edible: Upright, small, round or tapered, and thin walled; medium to high heat (5,000 to 60,000 Scoville Units). Bred in a variety of colors and with different shaped peppers: 'Black Pearl', 'Super Chile' . Taste these peppers cautiously first, as some are bitter, some are exceptionally hot; pickle to add heat to salsas, marinades, and soups.
Poblano (called Ancho when dried): Flat and round, slightly tapered with a blunt end; thin walls with three cells; dark green; mild heat (1,000 to <5,000 Scoville Units). Harvest green for roasting and stuffing; dry when red ripe and grind up for basic salsas and moles.
Santa Fe Grande: Medium-sized, tapered and conical; medium thick walls; yellow-to-red; medium to high heat (5,000 to 40,000 Scoville Units). Use fresh when ripe; pickle or roast and add to quesadillas and tacos.
Arbole dried for salsa
Serrano: Slim, slightly club-shaped with medium thick walls; green but rippens to a red; rich flavor; medium to high heat (5,000 to 60,000 Scoville Units). Use fresh in salsas or fry or grill and use as a garnish or add to salsas, tacos, guacamole, and other traditional Mexican dishes. This is a real favorite ofours as the flavour is so rich!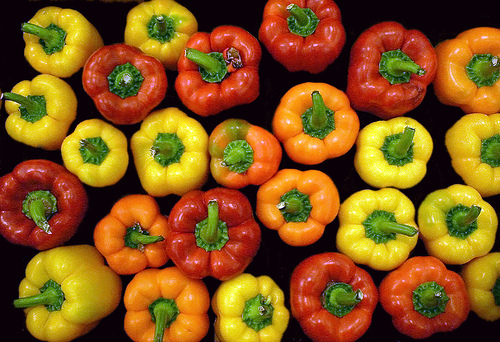 Bell Peppers in an array of colour.
Chiles - Scoville Ratings