Mac N' Cheese NYC Style
An American classic comfort food taken to new heigths!  Remember that blue box that perhaps was your first attempt at cooking?  Well this version is a wee bit more than the blue box offered.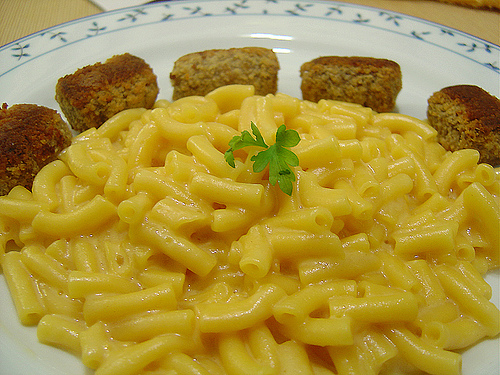 The original Blue Box Mac n' Cheese
PLUS
The king of fungi - Tuber Melanosporum (better know as a truffle)
What:Â Mac and Cheese
Where:Â  Waverly Inn, NYC
Price:Â $90
Graydon Carter, owner of the Waverly Inn and editor-in-chief of Vanity Fair, has revamped an American favorite from a comfort classic to a comfort classy $$$$$Â 
"The new truffle-laden mac and cheese is a nod to the common man at the restaurant generally reputed for its exclusivity. How exclusive you ask? Well, as I was welcomed into the dining room by a leggy and attractive hostess, News Corp chairman, Rupert Murdoch passed by arm in arm with Ivanka Trump. Moreover, our fellow diners included the legendary super model and Playboy playmate, Cindy Crawford along with Ralph Fiennes and Uma Thurman.
The mac and cheese is made with a fine white Vermont cheddar and garnished with shaven white truffle. To add to the fanfare of it all, the Chef comes out from the back-of-house to shave the truffle onto your dish table side."
At this price one must drink a fine champagne for sure, no glass of mik to wash this plate down as wee once did after school as a snack.  This one brings back such memories, but ya know my mom wasn't serving this with shaved truffles-was yours? <smile>
Today, one of my now favourite comfort dishes is Namya (Khanom Jin Namya), a fish - coconut milk curry served with mie/noodles and fresh Tahi Basil/ bai horopa, or Khao Soy, a creamy coconut milk curry of chicken with egg noodles and topped with crisy fried noodles.
A bowl of yummy Khao Soy, popular dish of North East Thailand.
For the original Mac story from Pocket Change:
http://www.pocketchangenyc.com/newsletter.asp?nid=29Â 
What next after a plate of $90 Mac and Cheese?  Perhaps cavair, at least it is great with vodka or champagne instead of a glass of moo juice.
Mac N' Cheese NYC Style