Who owns Falafel – Israel?

28 Apr 2010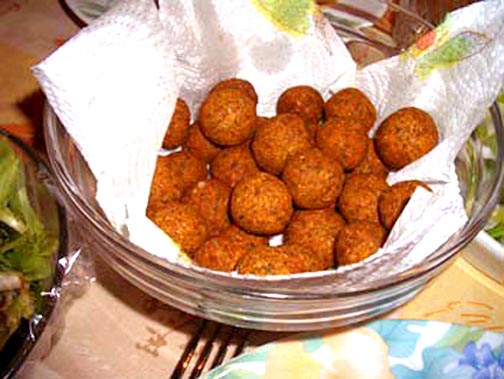 Falafel is a fried ball made from ground chickpea. Sometimes it is also mixed with fava or broad beans. It is very popular in Israel, Palestine, Lebanon, Syria, Egypt, and UAE. It is a vegetarian dish and believed to have originated in Egypt and consumed during Lent.
Nowadays Falafel is eaten all over the world. As an Indian I would call it "chana dal ki pakoda".
Its ingredients are chick pea, or a mix of broad beans (fava) and chick peas, onion, parsley, cumin and coriander. The ingredients of Falafel vary with nations and it is consumed with different accompaniments such as pickled cucumber or turnip and raw onion. Sometimes falafel is eaten like sandwiches. It is often eaten with Pita bread and sometimes wrapped in a flat bread called lafa and topped with vegetables and tahini sauce.
This reminds me of shawarma rolls. In some versions of falafel capsicum is used. In Egypt the main ingredient is fava or broad beans. Pepper, onion and leek are used for flavor. Falafel is then served on a pitta bread and topped with Tahini sauce.
Lebanon and Palestine are not too happy with Falafel becoming the national dish in Israel but it has become associated with Israelis as they spread falafel to Europe and US.
It has also been adopted in the west and even McDonald sells falafel in some countries as Mcfalafel. Primarily it grew as a road-side snack and was eaten to break the fast during the Month of Ramzan (Ramadan). Falafel is a vegetarian dish and can also be eaten as a starter in restaurants.
Falafel or chana dal ki pakoda – call it whatever you will. I would just enjoy it as a vada which is popular in the southern states of India; and is found as a street food in the metros of India – Hyderabad, Bangalore and Kolkata to mention a few. In the South Indian variety, coconut is also added.
In Bengal a similar kind of preparation exists and is called "daler borra" and is eaten with rice and on rainy day evenings with tea.
Though the patent or copyright goes to Israel, there could actually be a lot of claimants to it.
Who Owns Falafel – Israel?