Pani Puri
Panipuri is a popular street snack in India. It comprises of a round, hollow "puri", fried crisp and filled with a watery mixture of tamarind, chilli/chile and potato, and or chickpeas. The name panipuri literally means "water in fried bread".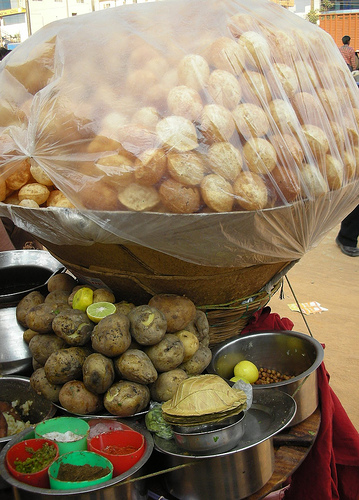 Calcutta style Pani Puri
Pani is a Hindi word for water and puri (or poori) is an Indian bread that is made by frying dough in oil. It is known as puchka in West Bengal and Bangladesh. Since the bread is served with special spiced water, it is known as pani poori; it is also known as gol gappa.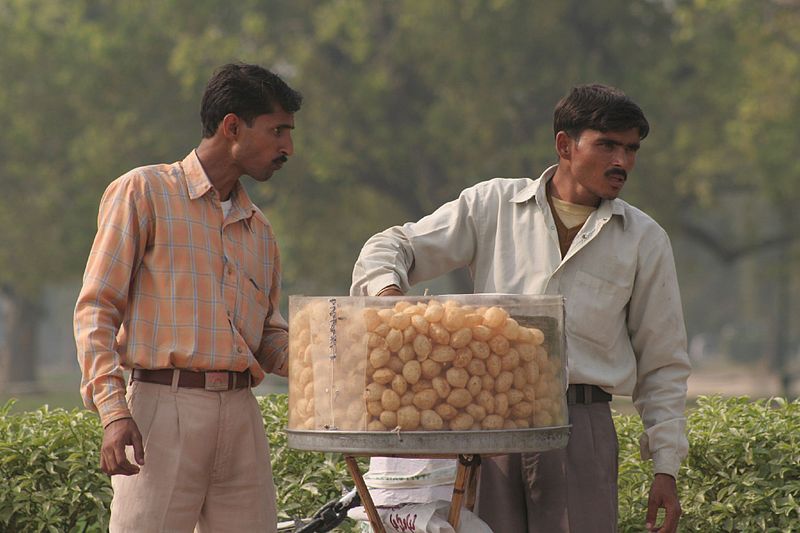 In general, any form of phuchka or panipuri is a hollow, puffed, round dough which tastes like a crunchy shell. The shell by itself is not a great tasting snack, unless it is stuffed with special spicy potato-based stuffing and dipped in a masala water to fill up the hollow dough. Usually the stuffing needs to be prepared separately, and a small hole is made on the top centre of the dough with a finger to be able to insert the potato based stuffing inside the hollow dough. It is then dipped in the masala water and then served.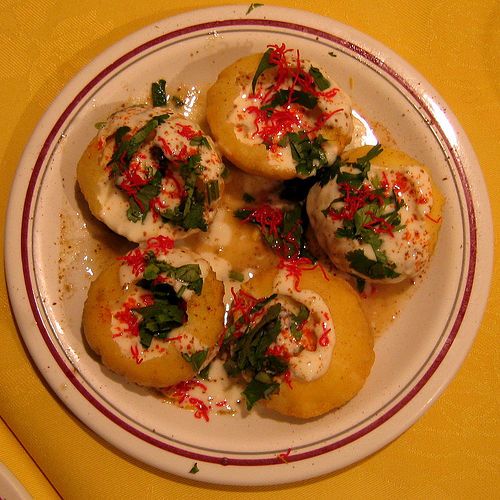 "The Kastoori's famous taste bomb - to be eaten in one! Crispy puries filled with diced potatoes, chick peas, puffed rice, onions, pani sauce, sweet and sour sauce and topped with yoghurt sauce." -- from the menu. Kastoori's is located 188 Upper Tooting Road, SW17 7EJ London
Nearest Tube: Tooting Bec, Tooting Broadway
Pani Puri is the associated stuffing and recipe of the masala water that makes it unique. In different regions in India, depending upon the local palate, the stuffing and water are made differently. They are known by different names based on these different recipes.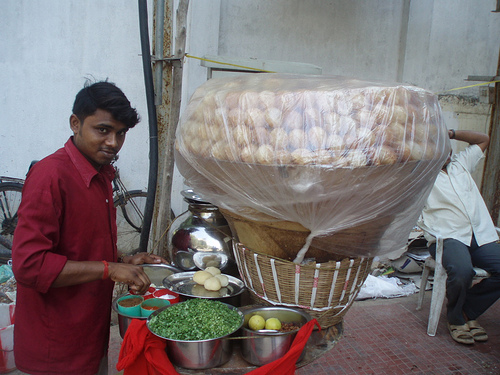 Preparation of the stuffing
Boiled potatoes are mashed or diced and mixed with powdered black salt, roasted cumin powder and roasted red chilli/chile powder. Boiled chana dal (chick peas) and coriander leaves may also be added to the mixture. Finely chopped onion can also be mixed in stuffing for taste. If you don't have potatoes, you can also use Garbanzo Chick Peas.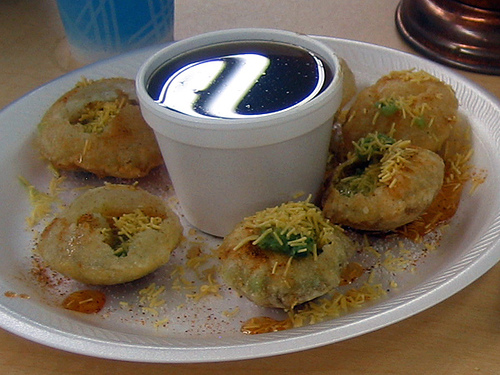 A serving of pani puri (aka gol guppe) at India Plaza's Chaat Corner in Tempe
Preparation of the water
Tamarind pulp, roasted chilli/chile powder, roasted cumin powder, black salt and regular salt are mixed thoroughly in water. Instead of tamarind, lemon or young green mango (which is sour in taste) can be made into paste along with Aam Adrak (ginger with the flavour of mango), along with mint water and spices like chilli powder, roasted cumin, black salt, and dry mango powder (amchur).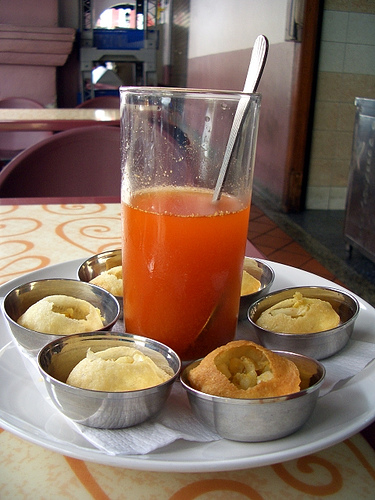 Some of my friends also use tequilla and water, as palm toddy is not available here in the US.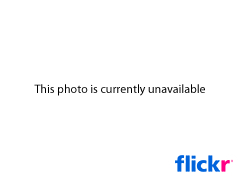 Below is pani puri as served at a party.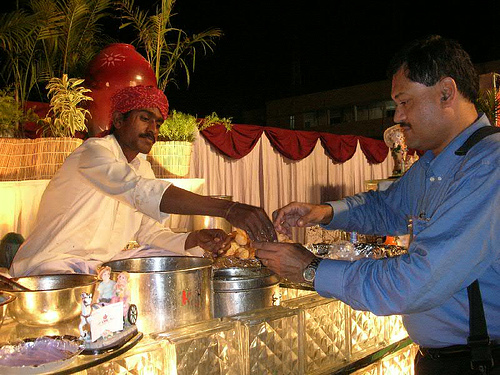 Preparation of the shell
Flour, wheat flour and semolina are mixed in equal proportion, and added with salt and little water to make a very thick dough. Very tiny balls are made out of the dough and flattened to a circular shape, with a diameter varying between 2–3 inches, using a rolling pin. These are later deep fried in oil. However, often times it is mre foolproof to buy the shells either fresh made or in vacuum sealed box from Indian markets. It is certainly easier!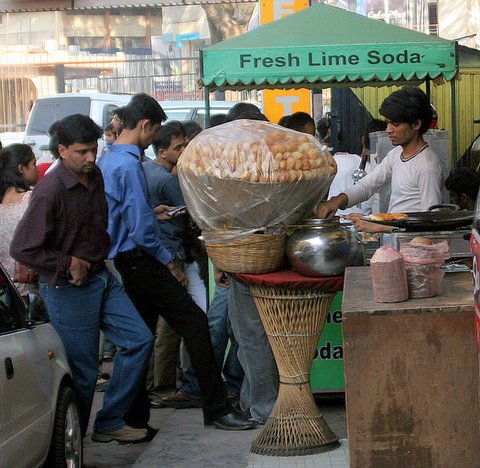 Dahi phuchka recipe
Instead of using water as a serving base, dahi (curd/yogurt) is used. The yogurt is battered after adding a little date chutney. Ground spices are sprinkled over it and garnished with sev mamra (an Indian snack consisting of a mixture of spicy dried ingredients, including puffed rice, savoury noodles, peanuts and spices-available in bag like chips from Indian markets.)
Sometimes Boondi or Lentil Balls are also used.
Presentation
Typically, panipuris are served in 5–8 quantities, constituting a "plate". The plate is constructed out of dry sal leaves and has a triangular shape. Sal leaves (Shorea robusta, Dipterocarpaceae) are used as disposable plates. I sometimes use banana leaves as they are easier to find here, as many Asian markets carry them fresh. Some places offer panipuris pre-made into a whole plate, but the popular way is to be served them one at a time from a road-side vendor. Customers hold a small plate and stand around the server's cart. The server then starts making one panipuri at a time and gives one to each individual.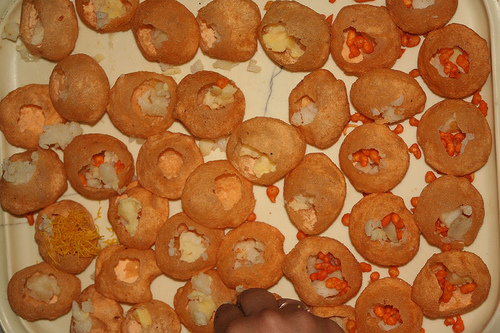 Panipuri servers have to remember each customer's preferences: e.g. sweetened pani, more filling, more onions. The server must also keep count of how many panipuris each person has had. Panipuri servers are renowned for remembering choices and numbers served, even when serving an entire crowd.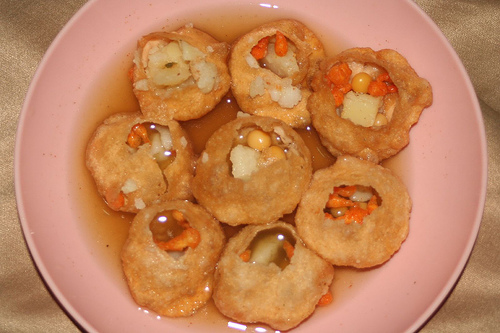 Traditionally, panipuris are eaten by placing the entire puri into the mouth in one go and biting into it. This releases a barrage of different tastes. Panipuris may be finished off with a cup of the pani, sweetened or soured to taste.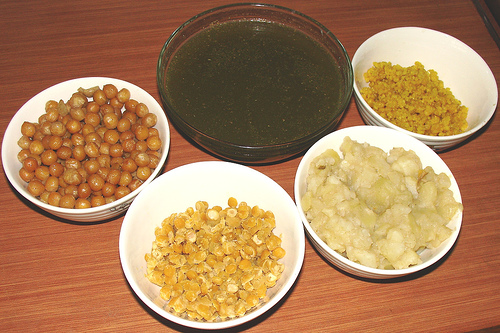 A recent emergence in the presentation of panipuri involves the use of vodka as an intoxicating substitute for the more traditional stuffings. Typically, this serving method is confined to privately-hosted parties, and is seldom (if ever) seen practiced among street vendors.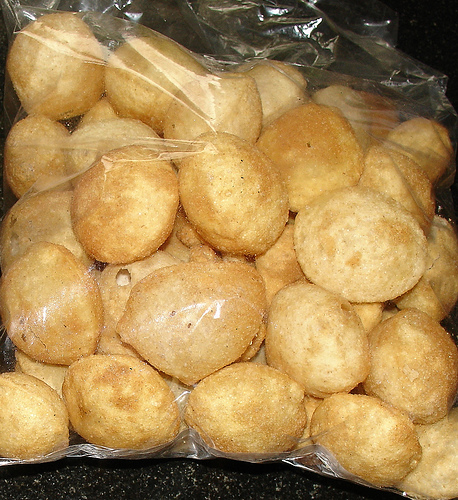 While many regions in India have their own variations of panipuri, the most famous ones are from Uttar Pradesh Biharis operate most of the chaat stalls all over the country
In Bengal, it is called phoochka (puchka). Many people enjoy this particular recipe. These do not contain any sweet or mint.
In Maharashtra, the recipe is usually spicier, and also contains 'boondi' or sprouts in addition to other ingredients. Other names are golgappa (plural: golguppe).
In certain central parts and Orissa, it is also known as gupchup.
I bought a box of Pani Poori, and I am trying to decide what to fill them with --potato masala? garbanzos? tamarind water? I think using some use tequilla in place of palm toddy and water would be nice this time.
Any suggestions greatly appreciated.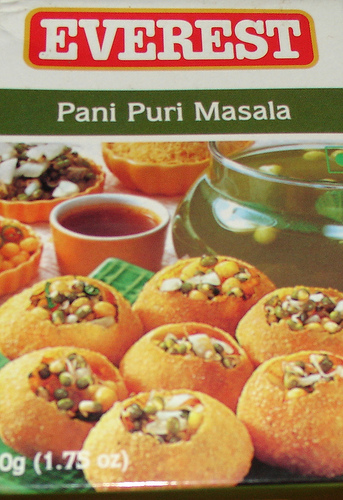 I have seen this but never used it. The prepared pani puri shells I bought are Haldiram's Brand
Pani Puri