National Deviled Egg Day
3 Nov 2007
Foodie fans today is National Deviled Egg Day.  I would think this would be better served the day after Easter considering how many eggs are boiled...  I first learned how to make deviled eggs from Sesame Street. I saw them make it and went straight into the kitchen and boiled some eggs
and reproduced the recipe.  I've been making them ever since however what I make today has evolved from what I started with.
Basic Deviled Eggs:
Hard boiled eggs
Mayo
Mustard
Paprika (to dust the top with)
To take them to a new level try using different types of mustard, make your own mayo, add herbs or other spices, try using different types of relish or pickles.  Tarragon is good to add...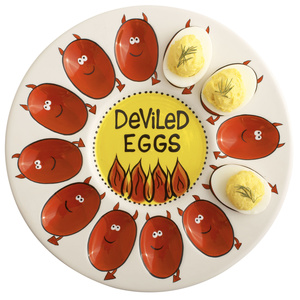 As always have fun with your food... 
National Deviled Egg Day