SOME LIKE IT HOT!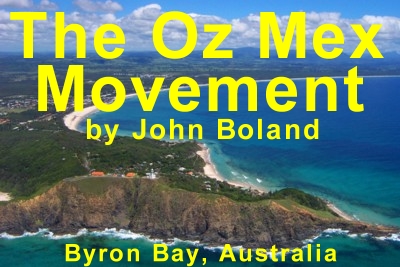 Twenty or thirty years ago in Australia, "meat and three veg" was the standard dinner formula. As far as condiments--tomato sauce (ketchup) was king. But since then there's been a real shift and interest in spicy foods has taken off. Everywhere you go, people are cooking with chillis, garlic, ginger and coriander (cilantro). Nicknamed Oz by those who love it, Australia is the home of a new food movement I call "Oz Mex."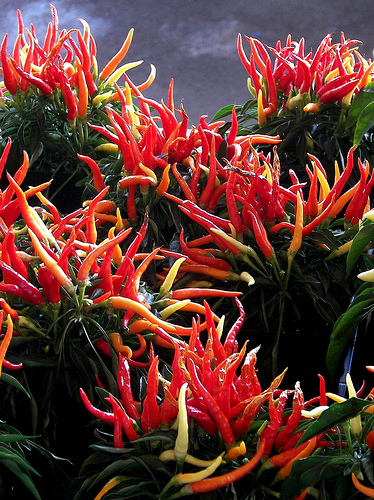 Reaching for the sun!As much a state of mind as a food movement, Oz Mex takes its inspiration from the cross-pollination that resulted in Tex-Mex cuisine. But because Australians have incorporated so many Asian flavors into their spicy palates, Oz Mex is also about freedom from conformity and a willingness to be open minded. It's about celebrating the best in all the wonderfully diverse cultures of this world, and not being afraid to do your own thing.Nearly twenty years ago, my wife Lynne and I were looking for a new thing and ended up in a little beach town in New South Wales called Byron Bay. Roughly at the same latitude down under as Miami or Puerto Vallarta in the North, we found a patch of red earth where papayas and bananas seemed to jump out of the ground. But we didn't see any jalapenos growing, so we decided to grow our own.
 They grow chillis in Australia!After our first harvest brought more than we could sell, we pickled them in drums and started making salsas, which we sold at the local farmers markets. Like many others before and after, we packed our sauces one bottle at a time, and stuck the labels on while watching TV. Within a year we found a reliable contract packer and were selling salsa in Coles Supermarkets, one of Australia's largest retailers. That was 1994, the year Byron Bay Chilli Company took off. Chiles come in all colours!Since those early days, a thriving Australian Fiery Foods Industry has sprouted up all over the country. Ashif Mawani, my Kenyan/Indian/Canadian/Aussie mate created our Best Louisiana Style Hot Sauce and the Red Cayenne Chilli Sauce with Lime. And we've been lucky enough to team up with one of Australia's best loved actors, Jack Thompson, on a trio of spicy BBQ sauces from his original recipes. In the style of Paul Newman's brand Newman's Own, Jack Thompson's sauces help fund a local environmental organization, Landcare Australia. We now sell our sauces all over Oz, in the USA/Canada, the UK/EU, Asia, and a couple of South Pacific Islands. And this year our  Fiery Coconut Chilli Sauce was voted Grand Prize Winner in the annual Scovie Awards.
Start them early on capsicums.Nationally, the movement has been nurtured by a national newsletter that became a magazine and later became the annual Fiery Food Festival in Sydney. "The Chilli Press," brainchild of Robynne Millward, helped connect a network of hot sauce producers and hot food enthusiasts, organizing them into the Sydney festival.
At the festival you're likely to run into a crowd full of colorful characters. My old buddy Horrible Haggis is the proprietor of the Redback Chilli Co. and the inventor of Redback Chilli Chutney and Redback Dell's Devil Relish. He hosts an another annual hot sauce festival in Eastern Victoria every February (our summer time). The Incendiary Dutchman, Marcel from The Chilli Factory, is always happy to blow your head off with his sauces named after Australian animals. And Mary Carmen, a Mexican import herself living in Sydney with her Aussie husband, has a website, Fireworks Foods, with enough hot stuff to make your own fire at home.
Died chiles make a gorgeous wreath.As demand has grown, a large scale grower and processor called Austchilli has helped supply the industry with beautiful jalapeno, cayenne, birds eye and habanero chillis. Based in Bundaberg, Queensland, their farm is located near the Tropic of Capricorn, and grows most varieties year round, planting every two weeks. Greater availability of chillis has sparked the creativity of many Australian hot sauce makers.
Habanaros are seriously hot, fruity and wonderful.On the far south coast of New South Wales, the Disaster Bay Chillies grows its own chillis to use in gourmet sauces and wines. Disaster Bay's Hot Chilli Wine is made from up to nine different varieties of chilies—but no grapes. This totally unique wine won the award for the Best New Product at the Third National Chilli Festival in 2000. Oz Mex food is showing up in a number of excellent restaurants in Sydney, including Cafe Pacifico, a fantastic restaurant that feels like a piece of Baja California down under. And the premium margaritas are the real thing! If you go, tell Phil that chilli John sent you.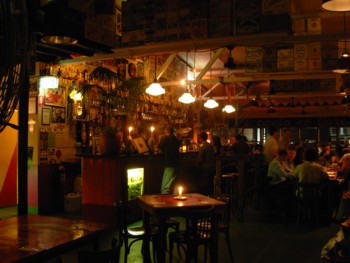 Cafe Pacifico, Sydneyfrom my friend and fellow ChileHead, Dave DeWitt.  We Americans spell those capsicums chile, but others around the globe prefer chili, chillie, chilly, and so on.  Me as long as those capsicums are HOT you can spell it any way you want.http://www.fiery-foods.com/
SOME LIKE IT HOT!