Manni - the world's most exclusive olive oil
Want to taste the world's most expensive olive oil?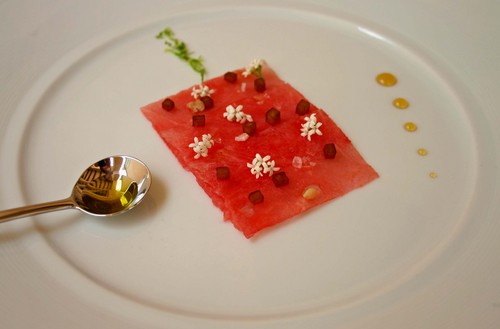 Shaved watermelon with balsamic pickled watermelon rind, sweet woodruff, Manni olive oil, yuzu honey, lime zest and maldon salt
 Made in Tuscany, Manni organic extra virgin olive oil can be found at only 25  restaurants around the world.
Founder Armando Manni carefully selects only establishments that he believes will truly appreciate the product. And what an exclusive group it is. Thomas Keller is a longtime client, using the oil at both the French Laundry in Yountville and Per Se in New York. Others include Jean Georges in New York and Shanghai; Charlie Trotter's in Chicago; Daniel in New York; Alex at the Wynn Resort in Las Vegas; and the Fat Duck in the United Kingdom and at  Quattro in the Four Seasons Hotel Silicon Valley, in East Palo Alto.
Quattro Executive Chef Alessandro Cartumini has been using the extraordinarily lush olive oil for the past two months as a finishing touch on some dishes. He offers a $3 pour to customers who want to add it to any dish or try it as a dip for bread. He also sells 3.4-ounce bottles of the 2005 and 2006 vintages for $80 each.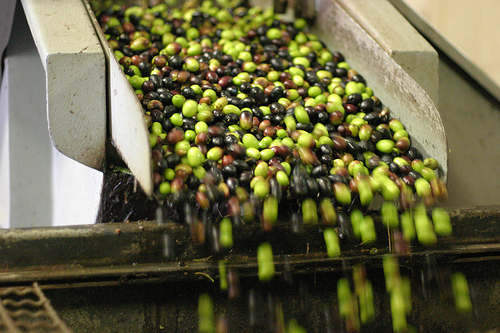 Manni calls his product, "live oil." Unlike other olive oils that gradually lose much of their antioxidant-rich polyphenols as they sit on a store shelf in transparent bottles, his olive oils, sold only in the 3.4-ounce opaque bottles, lose very little of their polyphenols even after a year or two. Manni, a filmmaker turned olive oil producer, also doesn't sell his oils to stores; he only ships directly to customers by Federal Express to ensure the oils are handled properly.
He sells two types of oil: Per Mio Figlio (for my child), a milder tasting olive oil; and Per Me (for me), a more adult, more complex oil. A little goes a long way with these very rich tasting olive oils. Drizzle some on a dish just before serving to make anything extra special.
The oils can be ordered at http://www.buymanni.com/ with a minimum of 10 (3.4-ounce) bottles. Cost is about $311, depending upon the current exchange rate with the Euro. " Locanda Locatelli in London, where I tasted the oils again along with Giorgio Locatelli. On slurping the oil from a tiny spoon, Giorgio's bedroom eyes widened and his eyebrows shot up. He placed a very large order. 'Even so,' he told me later, 'it is too expensive to put on every table.' He said the oil is reserved for special customers, though the head waiter will offer it 'if he thinks a table can appreciate it'. "  to read of this tsting-
http://observer.guardian.co.uk/foodmonthly/story/0,9950,951701,00.html
Manni - The World's Most Exclusive Olive Oil