THE TASTE OF INDIA!!
28 Sep 2007
well... for all those of you who're fond of the Indian culture and are just mesmerised by the indian cuisine and the indian snacks.. the gala time for you has already started...
it is not at all easy to vow hearts... especially when a plethora of cuisines are avilable... what stands out among all of them is the indian cuisine.. truly...
acc to a popular quotation, "the way to a person's heart is thru one's stomach", you'll never find these indian snacks falter to this...
so, here are some of the most popular ones....
samosa..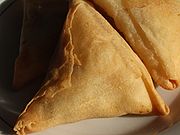 A samosa is a common snack in South Asia, in countries such as India and Pakistan. It is believed that it originated in Central Asia prior to the 10th century.[1]
It generally consists of a fried triangular- or tetrahedron-shaped pastry shell with a savory potato, onion, fresh coriander, cottage cheese known as Paneer and pea stuffing, but other stuffings like minced meat and fish are often used. The size and shape of a samosa, as well as the consistency of the pastry used, can vary considerably. It can be spicy and is often eaten with chutney, such as mint, coriander or tamarind. It is often savored with tea or coffee. It can also be prepared as a sweet form, rather than as a savory one
well, ain't it yummy... and if that's not all... watch out... there's another one coming up for you...
chaat...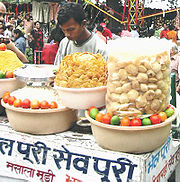 A young man at his chaat stand in Mussoorie, India. The main text on the front says "bhel puri" and "sev puri" in Hindi. In the plastic bag are puris for panipuri; the yellow substance is sev; the fried crackers are papdi; the white substance is puffed rice; and the other things are chopped onions, limes and tomatoes.
Most chaat are based on fried dough, with various other ingredients. Popular types include bhel puri, dahi puri, panipuri, dahi vada, papdi chaat, and sev puri. Each is markedly different from the others in ingredients and form, but several common elements include dahi, or yogurt; chopped onions and coriander; sev (small dried yellow noodles); and chaat masala. This is a masala, or spice mix, typically consisting of amchoor (dried mango powder), cumin, black salt, coriander, dried ginger, salt, black pepper, and red pepper. The ingredients are combined and served on a small metal plate or a banana leaf, dried and formed into a bowl.
watch out... there's one more to go....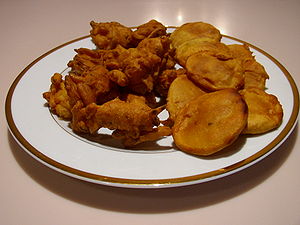 Pakora is a type of Indian cuisine and Pakistani cuisine created by taking ingredients such as chicken, onion, eggplant, lentils, potato, spinach, cauliflower, tomato, and chilli, dipping them in a batter of gram flour and then deep-frying them. They are usually served as snacks or appetizers. They can be eaten as starters in restaurants. When onions are so fried they are also known as onion bhujia, or bhaji.
this is surely mouth watering enough to win anyone's heart....
and if you feel it's not... better try once.. i'm sure your views will change...
THE TASTE OF INDIA!!