Sausages of the World
I got to thinking about one of our families favourite foods.  We often do mixed grills including chicken, pork tenderloin and maybe some fish, but always, I mean ALWAYS some type of sausages.  The kids love them and so do the "big" kids.  We grill them and cut them into bite sizes and everyone gathers round and scarfs down these appetizers.
I thought now what group does sausages belong in-street foods?  yes but no, barbecue? yes but no, so I started a group for sausages, cured meats and smoked meats. 
http://www.ifood.tv/group/sausages_smoked_meatsYou can make vegetarian sausages and smoked veggies, but this will be mainly about various meats, fowl, game, and seafood.
One of my favourite hobbies is to get together with my long time sausage buddies-Frank (prez of the Ca Q Assoc), Bruce Aidells (he sold the sausage co. 5 years ago), and Len Poli (Columbus Sausage Co) + plus others.  I am the token gal-hey I always bring fresh spices, and help with formulations!  The guys do the muscle part and I clean up.
One of my favourites to make are the wonderful pork and fermented rice sausages of North Thailand.  These are bite size and often eaten with a Thai chile and some basil, as shown in the photo below.
 
 Another favourite is to make Seekh Kebabs from ground goat meat and spices or sometimes chicken.  Now these are sans the casings and cooked on metal skewers.  We usually serve these with slices of sweet red onions from the garden and some lemon wedges.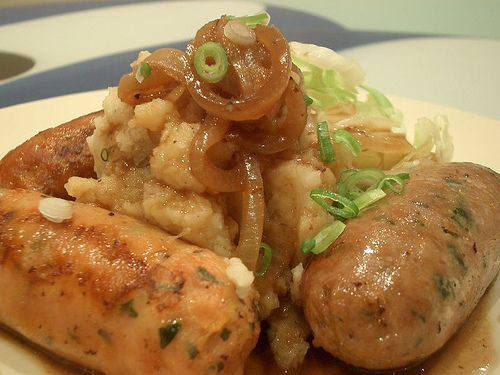 Above is a Moroccan Lamb, spinach, and pinenuts sausage.
Sausage making can be done with simple funnel and hand stuffing of the casings, or a step up to attachments for your kitchenaid or with good home meat grinder and stuffer attachment, or if you get serious about this endeavor there are almost commercil power equipment available on the net.  As you can see below it is also a manual art of learning to twist and "sew" the links together.
528319-sausages-of-the-world.jpgv0
One of the delights of sausage making is that there are so many ethnic ones that one will nver become bored.  Below is a Bulgarian half dry sausage/salami.
View koster79's mapTaken in Farindola, Abruzzi (See more photos here)42°25' 32" N, 13°45' 46" E42.42548313.762779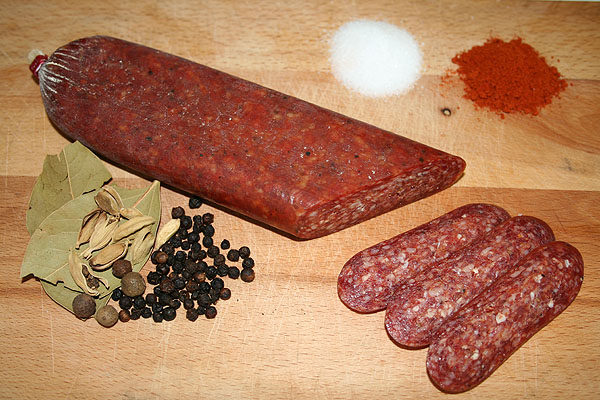 This Lukanka (Bulgarian cyrillic: Луканка) is a Bulgarian spicy sausage unique to Bulgarian cuisine. You note it has a flattened cylindrical shape and brownish-red interior in a skin that is normally covered with a white fungus.  The mix of small pieces of meat and fat give the interior a grainy structure.
Traditionally, lukanka sausage is made of pork, beef (veal), and spices (black pepper, cumin, salt, and fenugreek) minced together and stuffed into a length of dried cow's intestine as casing, although some types of lukanka are now made with only pork or beef. After the stuffing process, the cylindrical sausage is hung to dry for about 40 to 90 days in a well-ventilated location. Once dried, the sausage is pressed to acquire its typical flat form. Lukanka is usually finely sliced and served cold as an appetizer or starter.
Below you see sausages hanging to dry.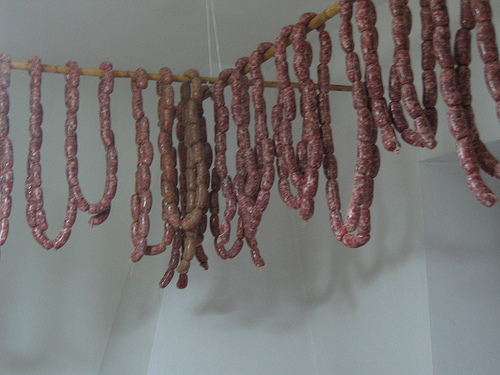 Another favourite of our family is Cevapcici which can be made from beef and lamb, or beef, pork and lamb.  These are popular with all in the former Yugoslavia.  They are finger sausages with no casings.  The are eaten with kajmak, a white cheese, and Lapinja a flat chewy bread as seen below, and also sometimes with Ajvar a roasted pepper condiment.
Sausages often are part of a grilled meal as blow with squab.
528323-sausages-of-the-world.jpgv0Don't these look yummy?
528324-sausages-of-the-world.jpgv0
Grilled Sausages always smell soooo good.
View mistert2's mapTaken in (See more photos here)There are many types of sausage. Casings, size, spices, and texture vary from culture to culture.  It takes a special kind of cook to make sausage - one that is creative an adventuresome.
The typical ingredients include: pork butt, fat back, garlic, herbs and spices. Spices are the secret to very good sausage. But the discerning palette can taste one or all of the following: salt, black pepper, sage, thyme, rosemary, nutmeg, cayenne pepper, red pepper, garlic, sage, paprika, and?????View peter_r's mapTaken in (See more photos here)
This is a type of French dry sausage and sometimes the Itlian versions will contain pestachios.
Smoking home made sausages gives them a real special flavour!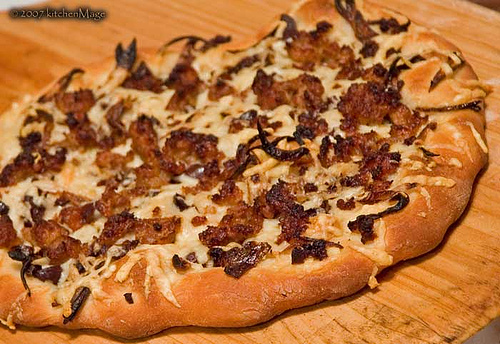 Now what could be better than a pizza toppd with your own home made sausage?So Come and join us as we learn and share our sausage making secrets, as well as smoking and curing foods.http://www.ifood.tv/group/sausages_smoked_meats
Sausages Of The World