WILD about Salmon
Wild About Salmon
528187-wild-about-salmon.jpgv0
We love wild salmon and it is a favourite summer entrée whether barbecued on a soaked cedar plank, smoked, or broiled.  Our favourite is the Copper River Wild Salmon from Alaska, but it has a short season usually in May/June.  However the run is on for several months for those other gorgeous wild salmon.  I do not like the taste of farmed salmon, but am wild for wild salmon!
Our favourite way to cook Wild Salmon is use Tom Douglas' Dry Salmon Rub-rub with love-awesome flavour and not much salt!  Thank you Tom for keeping it healthy.  I make some of our rubs but honestly can't come up with a salmon rub that tops this one.  Also his Bengal Masala Rub  (formerly Lamb Rub) is to die for, but I'll talk about that in another blog.
http://www.tomdouglas.com/products/spice-rub.html
Another taste teeat is Thai Red Curry Salmon and Tandoori Salmon-oh la-la-I am getting hungry just thinking about these recipes.
528188-wild-about-salmon.jpgv0
Salmon served with a Mango Salsa is amazing.  Must post that recipe of tomatoes-mangoes-avocados-red onion-serrano chiles-cilantro-lime juice.  Just make equal parts of the fruits and season.  YUM!
 
Salmon is such a Healthy Choice meal.  Wild Pacific Salmon products contain:
No added chemicals
No artificial colouring
No preservatives
No pesticides
No antibiotics
No GMO's

There's no question that salmon is one of the healthiest foods you can, and should, eat. It contains two critical omega-3 fatty acids, EPA and DHA, that your heart and brain need for optimal health, especially as you age.
EPA fats are a "near miracle" for your health. They promote normal cholesterol and triglyceride levels and improve blood flow. They also promote healthy skin and enhance immune function.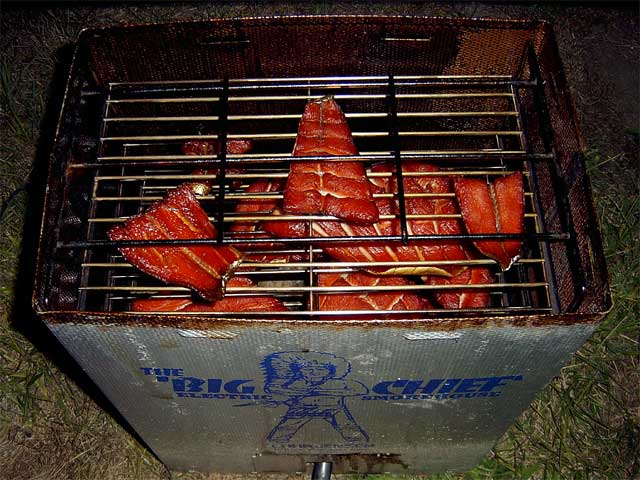 The other important fat in Wild Alaska Salmon is DHA, which plays an essential role in brain function. More than half of your brain consists of fat, and DHA is the most abundant. DHA levels play a critical role in your cognitive functioning throughout your life--and normal levels are needed for optimal memory and brain function.

Early summer through mid-September is the best time to buy wild Pacific salmon. This is when the most popular species -- king (chinook), coho and sockeye -- begin their journey from the ocean, where they have grown to maturity, back to their natal streams to spawn.
Now I know some of you are saying-BUT how do I cook salmon?  We love to grill it outside-no smell in the house for those who object to fishy smells.  Salmon loves mustard, masalas/spices of almost any combination, or just plain with salt and pepper and a squeeze of fresh lemon if you desire.
It is important not to overcook the salmon to retain that gorgeous texture and flavour.  I think one reason some people "think" they don't like fish is A0  they always buy frozen and B)  they over cook it!  Salmon should still be almost "raw" in the middle when served.
For more info:
http://www.chicagotribune.com/features/food/foodanddrink/sns-fdcook2-wk4,0,4136115.story
NOTE:Â  No affiliation with Tom Douglas, just a very satisfied customer, although I have met him and his adorable daughter at the fancy food shows in SF.
WILD About Salmon