Vada Pav:Lifeline of mumbai
25 Jan 2007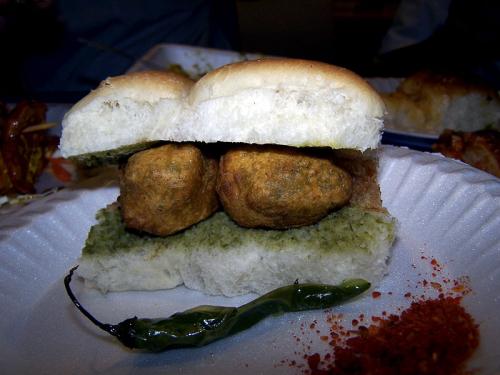 Vada Pav (also spelled Wada Pav) is an Indian vegetarian fast food commonly eaten in Maharashtra, India. It consists of a vada, served in a bun (pav).
 
The vada is usually potato-based. Potatoes are mashed/diced and coated with an herb-seasoned batter, then deep fried. The finished vada is then wrapped in bread and served with condiments such as chutney, red chili powder or fried green chili (sometimes fried and salted). A common condiment is a dry red chili and coconut chutney.
 
Vada pavs form a breakfast for many of the local people of Maharashtra. It is a snack sold nearly everywhere in Maharashtra. The snack is often served at breakfast and at tea time in many of the region's small eateries. On long distance trains, it is sometimes served as well. The Karjat railway station is famed across India for the vada pavs available from vendors on the platforms. Like hot dogs and other roadside fast food, care must be taken in ensuring that the product is not undercooked.
 
The vada pav was first made when Ashok Vaidya, a snack seller outside Dadar railway station, decided to experiment. The combination of batata vada and split pav continues to be Mumbai's sledgehammer answer to the burger.
 
The prices range from Rs. 2.50 to Rs. 15.00 depending on the establishment. Some variations include "cheese vada pav" (where slices of cheese are added), "samosa pav" (where "samosa" is used instead of vada) and "Jain vada pav" (does not use onions in preparing vada)
 
Several chains of fast food outlets in India specialise in vada pav including a rapidly growing chain called Jumbo King Vada Pav. Vada Pav is also known as 'wad pav' in rural Maharashtra. It is also commonly addressed as 'Garibon Ki Pav Bhaji' (poor people's pav bhaji).
Image Credit: ifood.tv
Vada Pav:Lifeline Of Mumbai