Different Types of Can Opener

19 Jan 2012
Openers for cans are available in many different designs, though all of them do open your cans. The designs and types differ mainly as according to the requirements of the users or as per the particular shape of can which they are meant to open. Here are some common types of can openers.
As the name suggests these openers run on an electric motor and are available in both cordless as well as corded varieties.
• Manual  Openers:
These are the most common type of  openers and are usually operated using the wrist or elbow. A little effort is needed and you can easily open the can by turning it slowly. Ideal for opening beer and coke cans.
• Table Top Openers:
These are the most effective stand alone models. You will find them to be very tall and are used in opening a number of cans.
• Under the Cabinet  Openers:
As the name implies these can openers help to save a lot of space. There is no additional space needed to store these can openers, as they can be easily attached under a cabinet or a counter. These openers are ideal for saving space.
• Hand Held Openers:
These can be easily carried and are perfect for picnics and parties where it becomes necessary to carry your own openers. These openers are portable and are very easy to use. Many electric models of hand held can openers are also available which are cordless.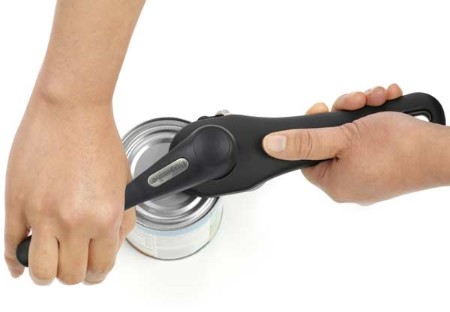 • Bladeless Openers:
Most  openers have a blade but this is what makes these openers unique. In this type of can opener, you do not cut the opener but these models work by uncrimping the metallic edge of the can. This is much safer and very less messy.
Can openers are very useful – you just need to pick an opener as per your requirement, so that you can make the most use of it.
Image credits: kayv
Different Types Of Can Opener