Different Types of Oven

12 Jan 2012
Ovens are available in many different sizes, forms and make. We usually pick an oven according to our convenience, also keeping in mind, the purpose for which the oven shall be used.  Here is a quick glimpse of some of the most common types of oven, their origin and  their use.
Earthern Oven:
One of the most traditional ovens found all over the world as it is used by different cultures! This is actually a pit which is dug well into the ground and heated, making use of rocks. Cooking is undoubtedly a long process and in the form of slow roasting of the food. This type of oven is not much in use today, though many traditional recipes  of  India and Afghanistan , such as roasted chicken and lamb are still cooked in this oven.
Ceramic oven
A clay oven, which dates back to nearly 3000 BC constructed mainly with clay and ceramic as the main material, though brick is also predominantly used now. In India this oven is referred to as tandoor and used in preparing tandoori chicken and tandoori roti among other delicacies.
Gas oven
The first recorded evidence of this oven dates back to 1802, in a party hosted by Zachaus Winzler, which become famous for the use of gas in cooking. Food in this type of oven was normally prepared on the gas stove or the compartment of the gas stove. This gas oven is known to have set the future standard for the gas stoves and other types of ovens.
Masonary oven
This oven would have a baking chamber usually made from fireproof concrete, bricks, clay and stone. Masonary ovens using coal and wood were very common during the 19th century, which were later improved with the use of natural gas and much later, electricity.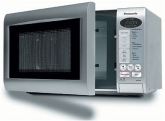 Cakes and pizzas taste wonderful when prepared in a masonary oven.
Microwave oven
This is the most modern form of oven which makes use of micro radiation waves to prepare foods, as its source of heat. This modern technology oven was initially conceptualized in 1946, who during his study on magnetism, discovered the effectiveness of the heating properties of microwave. Microwave cooking is one of the most common ways of preparing food today.
There are many different types of ovens available today - just pick one as per your requirements.
Images: mha , customercareinfo , industrialoven 
Different Types Of Oven