Maltese Kitchen Essentials

5 Sep 2011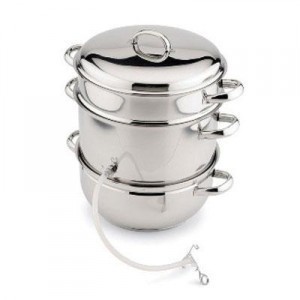 A Maltese kitchen is known for a variety of food items prepared traditionally without the usage of modern time saving appliances. For those who are new to the Maltese kitchen essentials, refer to the below guide to know about the various cookware and equipments used to cook food, the Maltese way.
Whether you are a newbie or a master chef, you need to stock you kitchen with some essential tools for cooking authentic Maltese meals. Some of those that are highly essential are:
Chef's Knife
Many types of cutlery are put to use in a Maltese kitchen but if there is an option to choose only one, one should go for a 6 inches long chef knife. It should have an ergonomic design i.e. a comfortable and textured handle so that the knife can be held firmly. The knife chosen should be made of stainless steel or carbon steel.
Pasta Pot
You surely cannot think of Maltese food sans pasta. So to cook the pasta right, a lot of water is also required. This will require a pot that is quite big. Say if you plan to cook a pound of noodles, a 5 gallon container would suffice the need. Some cooks prefer containers that are even bigger in size i.e. up to 8 gallons.
Garlic press
Garlic is an essential ingredient in Maltese food used in a lot of dishes like the Pesto and pomodoro. A cast aluminum press can be used to mash large or small cloves. You could also prefer to use a nonporous mortar and pestle to mash the garlic.
Grater
A cheese grater is an essential preparation tool in a Maltese kitchen. You could prefer to use the traditional four-sided tower shaped grater or go for a flat, handheld type.
Colander
To drain pasta and vegetables, Colander is used. It is important to use the colander of the right size to rinse the amount of food you want. It comes in different types of materials ranging from copper, aluminum and plastic but what really matters is the size of the equipment.
Baking Pan
For those of us who are smitten by Maltese comfort food, a baking pan is a must have Maltese kitchen tool. It should be ovenproof and if made of glass, it can be used as a serving dish as well when taken directly from the oven to the dining table.
Kitchen Scissors
Scissors can be used to cut through meat or vegetables and are a boon for the chefs. Different versions are made for people who use their left hands to work. Make sure that you use one made up of carbon or stainless steel blades and that which has a comfortable handle to grip.
Timer
You make the food right, if you time it right. You could mash, blend, chop, stir and cook to the best of you ability and perfectly but if it is overcooked, it surely has been a waste of time. One could use a timer especially when experience is not a feather in our cap.
So, the next time, you don the chef's hat, make sure you have all the above stated Maltese kitchen tools to come up with a classic biscotti!  
Image Credits: dimensionsguide.com
Maltese Kitchen Essentials