Tamil Kitchen Essentials

5 Sep 2011
A Tamil kitchen consists of authentic South Indian tools and equipments. Here is a reference guide that delineates a few Tamil kitchen tools for your kitchen kitchen. 
The list of Tamil kitchen essentials are:
 Rolling Pin
Tamil cuisine can be complete with the standard flat breads that are served with vegetables like Chapatis. These are made by placing dough on a flat, round board and flattening it into a round shape so that it can be baked or fried. A rolling pin thus is a quintessential tool in a Tamil kitchen.
Masala-Daani or Spice Rack
Any Tamil kitchen is incomplete without a spice rack that consists of essential spices like cardamom, cinnamon, pepper, etc. These are essential elements of a South Indian dish. These are stored in a rectangular wooden box with compartments that have sliding lids. Also, this has evolved from the traditional look and feel to being a metal container that holds small bowls that hold spices or masala.
Pressure cooker
This is used for cooking almost everything ranging from sambar, rice, beans and dishes like bisi bhele bhath. This speeds up the entire cooking process .The gadget absorbs the water completely and you don't need to worry about the rice being overheated once it is put in a pressure cooker.
Chopper or grinder
This is one of the most essential and used tool in a Tamil kitchen. It is used to grind roasted or fried spices to make guacamole and for quickly chopping onions which is an essential ingredient of Tamil cuisine.
Blender
This can be used to make smoothies and mango lassis. A blender is used to obtain emulsified sauces, soups and purees, hence this gadget makes the job in the kitchen pretty easy.
Mortar and Pestle
A very important part of a Tamil kitchen is the Mortar and Pestle used for grinding and mixing spices. It can be useful for creating a curry paste or grinding spices to produce a mixture called Garam Masala that is commonly used in almost all Indian curries. Traditionally made up of stone or wood, nowadays the stainless steel version available in the market can be of good use in your Indian kitchen.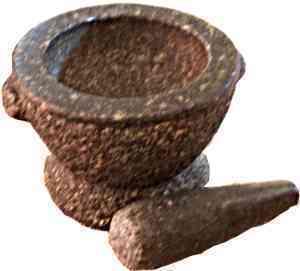 Wok
It is heavy, deep and quite in and is mainly used to fry and cook ingredients. It is mainly used for deep frying and long-simmering the dishes. It is made up of cast iron and should to be seasoned occasionally. But nowadays, non-stick Karahis are also available in the market.
Idli steamer
This is used to prepare steamed cakes made of fermented black lentils and rice. The fermented batter is poured into an idli tray which allows it to steam. The tray consists of molds that are perforated and this enables the idlis to be cooked evenly.
Tawa or a Flat Pan
A tawa is used to bake the flat bread that is made using a rolling pin or Belan. It looks like an American skillet but is much larger in size. It is available as made up of cast iron or non-stick tawas are also readily available in the market.
Equipped with the above mentioned Tamil kitchen tools, you could cook up scrumptious Tamil cuisines for a battalion of hungry soldiers as well!
Image Credits: compareindia.in.com, dimensionsguide.com
Tamil Kitchen Essentials