Punjabi Kitchen Essentials

4 Sep 2011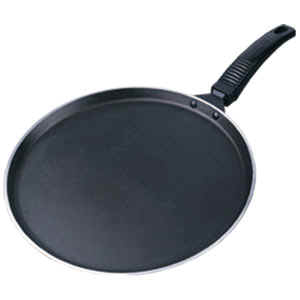 A typical Punjabi kitchen should be stacked with simple utensils and other kitchen equipment to churn out varieties of perfect Punjabi cuisines. If you are a newbie and have to set up your Punjabi kitchen for the first time, you could go through the reference guide that follows to get an idea about what Punjabi kitchen essentials  you should buy, to start off.
The list of essentials in a Punjabi kitchen are:
Belan or a Rolling Pin
Punjabi cuisine is complete with the standard flat breads that are served with vegetables like Chapatis, Paranthas, and Bhatura. These are made by placing dough on a flat, round board and flattening it into a round shape so that it can be baked or fried. A rolling pin thus is a quintessential tool in a Punjabi kitchen.
Tawa or a Flat Pan
A tawa is used to bake the flat bread that is made using a rolling pin or Belan. It looks like an American skillet but is much larger in size. It is available as made up of cast iron or non-stick tawas are also readily available in the market.
Ladle or Kalchi
It is a Punjabi version of a ladle and is used for stirring, preparation and distribution of food as well. Traditionally it was made of wood, but nowadays a stainless steel, long, hand-held ladle can be useful for scooping, stirring and serving meals.
Karahi or Wok
This Wok is quite different from the traditional one used in China. It is much heavier, deeper and quite small as compared to that and is mainly used to fry and cook ingredients. It is mainly used for deep frying and long-simmering the dishes. It is made up of cast iron and should to be seasoned occasionally. But nowadays, non-stick Karahis are also available in the market.
Kaddu Kas or a Grater
It can be used to grate root vegetables and gourds. You could make the perfect Gajar Halwa by grating carrots or could make Koftas using grated Lotus-root or Ghiya.
Makhan Phirni or Butter Churner
It is a prominent tool used in Punjabi kitchens that is made of wood. A larger version of the tool is also called the Phirni.It is mainly used to churn yoghurt to skim butter off its surface. The smaller version is used to prepare lassi, which is traditional drink made using yoghurt. Also, you could muddle the beans for your dal using a Ghotni, that is yet another smaller version of a Churner.
Masala-Daani or Spice Rack
Any Punjabi kitchen is incomplete without a spice rack. Traditionally a rectangular wooden box with compartments that have sliding lids, this has evolved from the traditional look and feel to being a metal container that holds small bowls that hold spices or masala.
Chalini
This is a handheld sieve that helps to filter out solids from the liquids. It can be used to segregate the tea-leaves from the tea due to its perforated surface and is usually made up of brass or stainless steel.
Chimta or tongs
To make a perfect version of flat bread or roti, you need to let it puff up and cook properly. A chimta can be used to do so. It can also be used to roast the perfect Papad that you intend to munch on while having your meal.
Thus you are all geared up to cook some hearty Punjabi dishes in your Punjabi kitchen!
Image Credits: blog.spanishtranslator.co.in, apartment37.blogspot.com
Punjabi Kitchen Essentials