African Kitchen Essentials

15 Aug 2011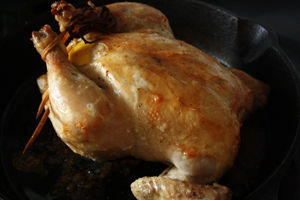 African kitchen essentials consist of a wide variety of tools that are used across various tribal kitchen in Africa. Though it is difficult to generalize the tools required in a kitchen, the following guide would equip you with sufficient knowledge about a standard African kitchen.
A few must have African kitchen tools are as follows:

 
Cast Iron Pots
African food is said to be born in a cast iron pots and pans. No other equipment can replace a black, well-seasoned, impossibly heavy skillet that can endure a lot of heat for longer durations of time. go for a high quality Dutch oven that is big in size and made of cast iron. Stock Pots can be used for preparing soups and purées. Make sure that the one in your kitchen is heavy and large and heats up quickly so that it is easy to cook your favorite recipes.

 
Wooden spoon
Wooden spoons can be used for stirring dishes the right way and without causing any accidents. These do not conduct heat while stirring sauces and soups. For stirring large pots you could use longer spoons of nearly 14 inches length. These work nicely on non-stick pans and prevent scratching or scraping the surface of the pans and pots in your kitchen.

 
Trussing needle
This is a sturdy needle nearly 15 cm long and can take a butcher's twine. It can be straight or bent and is used for sewing the belly cavity of lamb or a chicken or veal . It can also be used to pierce the leg joint of a chicken or a turkey and helps to truss or shape the bird by tying the legs and wings together so that it looks more presentable.

 
Sharpening Rod
This is a finely grooved rod that looks like a file. It has a sturdy handle and cross piece to ensure that the blade does not scratch your hand while you are using the tool.

 
Swivel peeler
This is used to peel all kinds of fruits and is used in both the directions. It has a little scoop at the end of the blade that is used to scrap off and scoop out rotten or imperfect pieces of fruits or vegetables.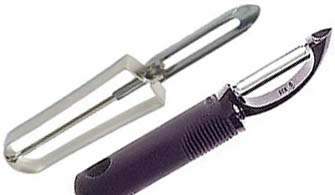 Microplane Grater
A microplane grater is used for grating, shaving, shredding, zesting, curling and pureeing ingredients like lemon, spices and cheeses. This tool has a long body with fine or coarse teeth as suited for the requirement. Make sure that while storing a microplane grater, you put a protective sheath underneath it. Even though this tool is quite sturdy and easy to clean, it needs to be handled with care since it is very sharp.

 
Make sure that your African kitchen houses the above mentioned tools along with a few gadgets like food processors, blenders and rice cookers if you would want to add a modern touch to it. All these tools can be stacked up in tiny kitchens to whip out scrumptious African cuisines.
Image Credits: theparsimoniousprincess.blogspot.com, myfrenchcuisine.com
African Kitchen Essentials