Louisiana Kitchen Essentials

30 Jul 2011
There is a famous saying about Louisiana - "In other places people eat to live, but in Louisiana we live to eat". The preparation of food for such a population, thus, becomes a task that asks for the right set of tools to come up with a hearty meal. Here is a guide that encompasses the Louisiana kitchen essentials to give you an idea about the right tools for your Louisiana kitchen.
A few must-have Louisiana kitchen tools are as follows:
Pots and pans
Some basic types of pots and pans are essential. One needs to have a set of heavy thick walled pots in a Louisiana kitchen. To start with one should go for a high quality Dutch oven that is big in size and made of cast iron. Stock Pots can be used for preparing soups, pastas, and purées. Make sure that the one in your kitchen is heavy and large and heats up quickly so that it is easy to cook your favorite recipes. Another must have kitchen tool is a roasting pan. Non-stick cookware can be quite useful. Along with these, one can have a deep fryer as well for those occasional crispy French fries.
Knives
One of the most essential tools for a Louisiana kitchen is a set of sharp knives that can be used for cutting vegetables, bread, and meat. A chef's knife is a versatile knife that has a broad blade and a narrow handle. Except for tasks like deboning and carving food, almost every task can be performed using a chef's knife. It should be 8 to 12 inches long and its structure makes it easier to grasp. Another essential knife in the kitchen is the Paring knife, especially those that provide blade control. A serrated knife can be used in the kitchen to slice bread or some soft fruits like tomatoes. Make sure that you purchase a sharpener to keep your set of knives sharp always.
Spoons
Spoons are a quintessential kitchen tool. It is important to have a set that comprises of a few gravy spoons; a big ladle for soups and gumbos. Make sure that your spoon set is of stainless steel type. The ordinary chrome plated spoons do not last long since they start to rust after repeated and heavy use. One can buy the roux spoon as well. It is mainly used to scrap off the bottom of a pot while preparing roux. One can also buy an ergonomically designed mashing spatula that can be useful in executing various tasks like preparing mashed potatoes and other vegetables.
Cooking twine
This is a tool that is used to tie stuffed and rolled meat together. It can also be used to tie poultry legs together.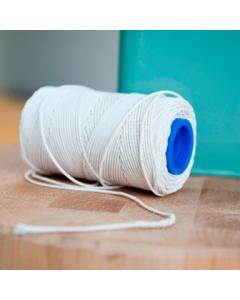 Whisk
A whisk is a very important tool for a Louisiana kitchen. For a quick omelet you need to have a sturdy whisk in your kitchen. Do ensure that your whisk is without any bends.
Thermometer
For those who love to cook meat, this is one of the most essential tools that you need to have in your Louisiana kitchen. You can buy a cheap and useful $10 version or one more convenient to use that comes for $100. Make sure that you calibrate the thermometer before use by sticking it in ice-cold water or boiling water and then reset it.
Image Credits: tarabradford.com, freshlyforked.com
Louisiana Kitchen Essentials