Turkish Kitchen Essentials

29 Jul 2011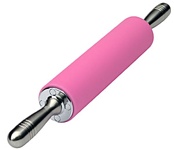 Like any other kitchen across the world, a Turkish kitchen is stacked with a few basic tools and some special ones to whip up the Turkish specialties. Some dishes just taste better after being cooked in traditional Turkish cookware. Here is a guide for reference to equip you with the start-up information about the Turkish kitchen essentials.
The list of essential Turkish kitchen tools is as follows:
Sac
This is an equipment used in the process of preparing Gozleme, which is a Turkish snack. It is a rounded griddle that is available in various sizes. After use, it needs to be thoroughly cleaned, heated properly before using it for cooking and drying it off after being washed. For a small kitchen, a small version that is nearly 20 cm in diameter is fit for use. The dough needed for Gozleme i.e. yufka is prepared on the Sac which is pronounced as satch.
Oklava
If you plan to prepare the yufka for Gozleme or baklava, a rolling pin or oklava is a must have tool in your Turkish kitchen. It is important to have an oklava of longer length as that makes food preparation less tedious.
Tagine and Majmar
It is the traditional earthenware in which the food is cooked. The food prepared in this cookware is also referred to as the Tagine. A stew made of lamb or chicken that is simmered for a long time in a shallow pan with a conical lid is an example of a Tagine. The dish is placed on open fire or a bed of charcoals to heat it for prolonged durations. A charcoal brazier made up of terracotta is used to heat up the Tagine. This is called as the Majmar. A point of caution in this case is that one has to prevent the overheating of the cookware. This is done by using a heat diffuser.
Dalla and Ibrik
Dalla is also a pot with a long curved spout and handle. This is used for brewing coffee. Ibrik is a pot similar to Dalla that has a long spout. It is used for brewing liquids like oil and wine. It is also called as Cezve. The pot size is quite small and the top is much narrow than the bottom. Ibriks are generally made up of brass or hammered copper. One can easily find the stainless steel versions in market these days.
Hawan or Madaqqa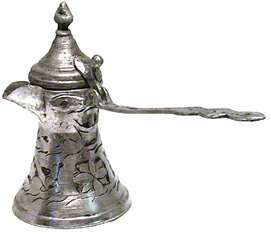 It is the middle-eastern version of mortar and pestle used across various cultures. It is typically used to crush coffee, spices, nuts, and herbs such as parsley, cilantro, and garlic.
Couscousiere
A staple dish in Turkey is the couscous. To cook a couscous dish, the tool used is called the quadra wa alkaskas or the couscousiere. It consists of two compartments. The lower compartment called the Burma is used to cook meat and vegetables and the upper compartment called the kesskess is used for cooking couscous. The vapors from the perforated lower compartment are allowed to rise to the upper part, thus enabling the steaming of couscous.
Sebkh, Safoud, Shish
These are the skewers made up of metal or a wood stick to hold pieces of food like kebabs together. These are used for grilling or roasting pieces of meat. Metal skewers are made of stainless steel and have a pointed end. The other end is used to grip the skewer and for removing the food. It is advisable to soak a wooden skewer before using it. 
Image credits: kitchencontraptions.com, ifood.tv
Turkish Kitchen Essentials