French Kitchen Essentials

21 Jul 2011
French cooks are well-known to produce exceptional food with limited number of tools. It's true that if in the right hands, a stone could be used to produce a scrumptious meal, but there still is the requirement of a stone in that case. Similarly, a French kitchen needs to be stocked with some essential tools to create the magical recipes and pamper your taste buds. Here is a guide to information about the essentials French kitchen tools.
The below listed tools and utensils are a must in a French kitchen.
Knives.
A large chef's knife and a Paring knife the most important utensils in a French kitchen. You could purchase a serrated bread knife or sharpening steel too. Just make sure that you purchase high quality cutlery like the Japanese cutlery is well known for its precision and durability, because every French cook is highly cautious about these two factors. For ease of work, many other knives and choppers can be included in the knife set. These are the Berceau commonly known as the mezzaluna, Cheese knife, Chestnut knife, French fry cutter, Mandolin, Meat cleaver, Oyster knife and the poultry scissors.
Pots and pans.
Anti-adhesive pots and pans or the ones made or iron or copper always grace the countertops in a French kitchen. Some common pots and pans are the Asparagus steamer, a chestnut roaster, a couscoussier that is a traditional Moroccan pot used to steam couscous in it, a crepe pan, a Dutch over that is quite common in an American kitchen too, and a roasting pan as well.
French Press Coffee Pot.
A  cafetiere a piston or a French press coffeepot is very commonly used in a French kitchen to make pressed coffee that has a richer taste and thicker consistency the regular machine coffee.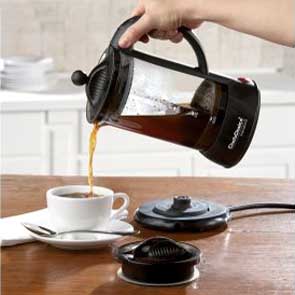 Oil and vinegar Cruets.
These are used for storing ingredients like oil to preserve them for a longer time and make it easy for dispensing these liquids while cooking. A French kitchen is usually equipped, with the likes of these.
Chioise.
It is a perforated conical sieve that is used to strain custards, purees, sauces and soups to produce a smooth texture .It can be used to dust the pastry with a fine layer of powdered sugar too.
Croissant Cutter.
A croissant cutter is used to process the cutting of dough in a right shape. It allows minimum waste of the dough. One should buy a stainless steel rolling croissant cutter with an ergonomic design, to carve out the perfect croissants.
Gratin Dish.
It is a shallow open container used to prepare Gratin and other similar dishes by placing it under an overhead grill or broiler. Gratin is a shallow dish topped with a browned crust.
Mousse Mold.
Mousses are an essential dessert in French cooking. To create the perfect mousse, you require the perfect mold. These can be large as well as very small in sizes and can be chosen according to need.
Raclette Grill.
Raclette is a cow's milk cheese that is used for melting and then scarped out from the plate. Nowadays it is served on a plate surmounted on this grill. Then the cheese is melted on the plate and mixed with vegetables.
Banneton.
It is a type of a basket that is used to provide structure to sourdough breads during proofing.The bread is removed from these baskets before baking. Traditionally made of wicker, these baskets are available nowadays as made up of silicone or plastic. Also, a couche or proofing cloth can be used to proof dough on or underneath. These are usually made of linen and other coarse material to aid the proofing process since the dough does not stick to it.
Image Credits: prairierose-hesper.blogspot.com , thenibble.com, madscientistbaking.com

 
French Kitchen Essentials