Thai Kitchen Essentials

21 Jul 2011
The aroma of Thai food can be quite alluring and is enough to stir your taste buds and crave for some specialty. But to cook such food one needs to have the right kind of equipment in the kitchen. For those who wish to set up a Thai kitchen and have no information about how to do so, here is a reference guide that enlists some of the must have Thai kitchen tools.
The following tools must grace the countertop of you Thai kitchen:
1.Krok and Look Krok.
It is a stone mortar that can be used for grinding spices, crushing herbs or garlic that add the flavor to Thai cuisine. A Krok is quiet inexpensive and easy to clean equipment and highly eco-friendly. Traditionally it is made from the stones in Aangsila County in Eastern Thailand which are high-grade stones. These come in different sizes varying from 2-3 pounds to as big as 50 pounds. A small Krok would suffice the need to grind the spices for making some fish curry paste in your kitchen. The Krok is useless without a LookKrok or a pestle that is used for grinding. These are available in two different varieties: wooden or made of stone. One can buy a wooden pestle to grind the food material that cannot endure much pounding and beating like vegetables and fruits like papaya. The stone ones are used for fine grinding the spices and herbs.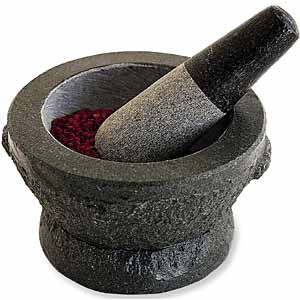 2.Rice Cooker.
Thai cuisine is incomplete without the traditional dishes like the sticky rice or Gluten rice. So, a rice cooker or a slow cooker is essential in a Thai kitchen so that one can put the ingredients in it and simply forget it.
3.Knife. 
A chef's pride is the right kind of knife in his hand. We tend to buy a knife set but end up using one all-purpose knife out of that set. It is important to use a knife that has a good grip because if the case is not so, you might end up chopping off inconsistent slices of your ingredients and the discomfort of holding such a knife make cooking much of a task. You should buy a knife that is purged, has a good grip, and is sharp enough to peel your food.
4.Cutting board.
The best cutting board is made using the tamarind tree wood. It should be strong, sturdy and make sure that you clean it regularly since all the meat chopping and vegetable slicing could make it quite messy.
5.Wok.
It is a large frying pan with a deep bottom. If you wish to make delicious recipes like the Kaijiew-omelet, you ought to have a deep and large frying pan called the Wok in your Thai kitchen with the right design so that it heats up evenly.
6.Wooden Spatulas.
Like the knives, the deal with a spatula is same as the grip. If you have a good grip, cooking could be more artistic and less messy. To stir fry large quantities of food, more than one spatula could be used. It should be flat with a little bend at the end. These are light-weight and easy to use tools.
7.Khanom Krok Pan.
You need to have a small Khanom Krok in your Thai kitchen to make delicious coconut pancakes that is prepared using coconut milk and ground rice.
8.Herb Teapot.
Use a teapot that is made of clay so that it can boil the tea properly and keep it warm for a long time.
9.Noodle Basket.
 Your kitchen would be incomplete without a high quality stainless steel noodle basket used for boiling noodles and vegetables.
Image credits: zlaucs.blogspot.com, chiangmaincookery.com, thewok.in
Thai Kitchen Essentials