How to Use Juicers

29 Jun 2011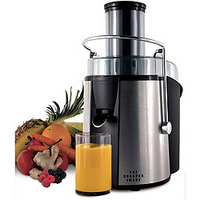 Learning how to use juicers is quite easy and helpful for daily use because it makes the task of juicing handy and instant. Learn the tips of using juicer here.
Trivia for Using Juicers
Choose the fruits or the veggies for juicing. Wash them thoroughly and peel them as necessary. As fresh and whole fruits are used for juicing, washing is extremely necessary to ensure healthy produce out of the juicer.
You can add protein powder, flaxseed oils, and fish oils in the juice as per personal discretion and requirement of recipe.
Tips for How to Use Juicers
Juicing may turn messy therefore make a proper place to arrange everything in order. In case you are running short of kitchen absorbent paper, place some newspaper instead.
Before placing the fruits in the juicer, cut them into small bites so that the blades are not forced to work hard on sizing the fruits into puree.
Consult the respective user-manual to learn how to place the fruit slices and how much water is required for juicing.
Keep a pitcher or jug near the juicer so that transferring juice from the machine remains easier.
Take half portion of the sliced fruit on the pointed reamer; turn the fruit slowly;  after crushing the juice discard the fruit residue.
Now strain the juice from one pitcher to another. Place the strainer over the empty pitcher and pour the juice.
All juice and no pulp  is not recommended as a healthy option.  To cope with the health trivia, take some pulp from the strainer and add into the final juice before serve. According to dieticians, adding pulp in the juice increases its antioxidant level, which is good for health.
With these tips on how to use juicer, now you will surely be more comfortable in using a juicer.
Enjoy juicing and enjoy wonderful health.
Image credit: best-juicer-ratings.com
How To Use Juicers