How To Use Tajine

3 May 2011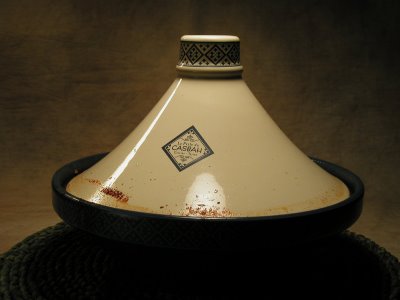 Before learning how to use tajine let's check once what is a tajine because it is not a conventional kitchen utensil. Using tajine is practiced mainly in Moroccan culinary style and it is a kind of Berber cooking vessel; however it has earned some popularity in western kitchen as well. These cooking vessels are also used as interior decoration item however these are glazed varieties and unglazed type of vessels are used for cooking as these vessels can be placed on burners. It is also known as Tajine.
How to use tajine for cooking
If you wish to understand how to use tajine you know the basic technology which works for tajine. On application of heat at the bottom surface steam is produced and it gets circulated within the conical lid and cylindrical shape of the container. It is always recommended to cook in slow flame with tajine and this keeps food moist and soft for a longer time. As it takes longer time to get cooked, it becomes spicy and oily without much use of oil in it.
Fish, lamb, chicken, and some vegetables are best cooked with tajine. Before placing foods in tajine you should marinate meat or fish well with oil and spice and onions. When the onions will get tender, it means that the meat is enough seasoned for cooking in tajine.
While using tajine always remember that layer food ingredients part by part is the specialty cooking style of tajine. Layering means you have to add browned meat at the lowest layer. Once the seasonings and meat is soft, add vegetable on it forming an upper layer close the lid.
 
On the lower flame let the ingredients get cooked for some times. After a few minutes check the ingredients if they are slightly tender. If these ingredients have turned into slightly tender by this time add water or stork in it and all the items be cooked against a slow heat.
 
While learning how to use tajine, you have to keep in mind that cooking in tajine is a kind of slow cooking process and it is not like conventional process of cooking where you can increase or reduce the flame. In case you want to increase flame intensity, it may cause harm to your tajine because it may crack. 
Cooking time in tajine may vary between 45 minutes to 3 hours depending on the type of the vegetable: depending on the cut of the meat.
Now when you have learned how to use tajine, now its time to get a tajine pot for your kitchen, and enjoy slow cooking on gas oven. 
Image credit:   livinginthekitchenwithpuppies.blogspot.com  
How To Use Tajine