How To Clean Waffle Iron

14 Apr 2011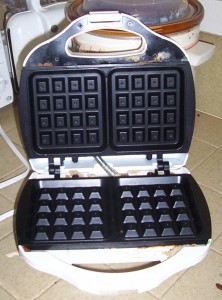 Thinking about how to clean waffle iron? Here are some tried and tested techniques that have worked well with most people.
Things You Will Need
·         Cloth
·         Knife or a chopstick
·         Paper Towels
·         Vegetable oil
Guidelines
Make sure the waffle cleaner has cooled down before you attempt to clean it.
Brush off all the crumbs and loose particles with a dry cloth or paper towel. This process will also get rid of all the excess oil drips in the grid plates.
Dampen the cloth and wipe down the insides of the waffle maker.
The grids of the waffle maker always collect oil after each use, after about 4 or 5 uses make sure you use some paper towels around a chopstick or the sharp edge of a knife and wipe away the oil build up.
To remove stubborn, baked-on batter build up, pour a few drops of vegetable oil onto the batter. Let it sit a few minutes to soften, and then wipe it away with a damp cloth or paper towel.
Removable cooking plates can be carefully washed in warm, soapy water, rinsed clean and dried on a dish rack.
Make sure your waffle maker is fully dry before putting it away.
Caution
Always refer to your appliance manual or the manufacturer's website for cleaning tips specific to your waffle maker.
Nonstick waffle makers should only need a slight coating of vegetable oil or cooking spray before the first time they're used for the day, not before each waffle is made.
Never immerse your waffle maker in water.
Don't use pointed or metal tools to take out the cooked waffles, or to scratch off caked-on batter.
Hopefully you wont dread cleaning waffle iron next time and the task will be a little easier. Happy cleaning!
Image credit - leslievaleska.com
How To Clean Waffle Iron