How To Use Barbecue

5 Apr 2011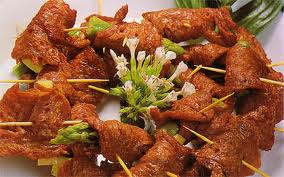 "How to use barbecue "  tips are the most challenging part of this cooking process because the question is related to the skill of this culinary style.  Read on  if you are fond of barbeque and wish to create sizzling ambience and rocking parties in the weekends with barbeque session as the cynosure of the event. 
How to use barbeque for creating a magic
Creating magic ambience with barbeque is extremely easy because it self a barbeque is all about wild magic; the smokes and fires and the slow preparation of food is all about thrill, fun, and excitement. A few tips are added here it will add spice to your fun recipe.
BBQ is all about outdoor party here pastes and flies can be a big hindrance for enjoyment. Mostly wasps, gnats, mosquitoes are common nuisances which tend to spoil the party fun. You must arrange citronella candles, citronella sprays to keep these pesky pastes away from the flame and food. Add garlic paste in the cooking it will keep away pests and mosquitoes from you.
Proper smoking of meat adds swirling test at BBQ party. You should try the smoking process on your own. Different woods can add different smells on the grilled meat hence create a special flavor on it. You can buy some wood planks and chips for adding this special flavor and add these smoky elements into the BBQ smoke box and place the box above the heat under the gill box for optimum effect.
Use a meat thermometer to check if the meat is thoroughly cooked because some of the seasoning spice and herbs turns meat color pinkish; only a meat thermometer can detect if the BBQ is really done or not.
How to maintain hygiene in BBQ
For obvious reason you will never allow that any of guests get food poisoning from the BBQ foods, hence you should maintain a few thumb rules while hosting a Barbeque party.
You must take extra care for the chopping boards; it is preferred that you should use separate board for chopping vegetables and mincing meat. You must wash all the boards in dishwasher liquid and then spray with bleach solution before get them dry by air.
You must maintain two sets of utensils; one for raw meat and second set is for taking roasted meat off the grill-sticks.
You have to keep your BBQ clean even when it is not in use. Clean it regularly with a wire brush and scraper; BBQS are handy to clean when they are slightly warm and regular cleaning will prevent the least chance of food contamination which is a prime hygienic issue for a party.
 
With all these basic outlines of how to use barbeque now you have enough excuses to arrange a BBQ party on the next weekend. Hope you party will be sizzling and rocking this time.
Image credit: ifood.tv
How To Use Barbecue