How To Use Rice Cooker

4 Apr 2011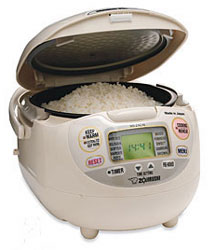 As rice cooker is a reasonably energy efficient kitchen equipment, therefore learning how to use rice cooker is  quite  a relevant attempt for achieving proficiency in kitchen management. Using rice cooker is extremely easy and a great time saving process for making rice. Rice cooker is available in two variants; one is a non electrical one operating on gas and the second variant is electrical rice cooker, operates on electrical power. Recently, solar rice cooker has also been introduced in market. However, although all these rice cooker models run on different source of energies, the "modus operandi" of these cookers remain the same.
How to use rice cooker
You have to be aware of the quantity of the rice and water while preparing rice with rice cooker; you should use the given plastic measuring containers for measuring rice and water quantity. In most of the rice cookers water and rice ratio is asked to maintain in 2:1 ratio; however you should check your cooker's manual before starts using it. You should use the given containers only.
Before starting working on the rice cooker you should spray cooking oil inside the cooking pot so that the rice should not get stick to the pot surface; it will make the pot messy.
Before you put rice you should continue washing rice on and on to eliminate the starch portion from the rice. Removal of starch from rice texture will help in getting fluffy rice which is good to eat, easy to serve, and easier to preserve in good quality.
Once the rice water gets clear in color, you should put water and rice inside the cooking pot. Place the cover lid on the cooker, and plug the cord with an energy source.
Now you should press the start button on the cooker. The start button may come with different option with varied models. In some cooker it is indicated as cooking button. However, you have to operate the start operation button.
Almost all types of cookers are available with auto control mode; once the rice is cooked the cooker gets converted from cooking mode to stand by warm mode. It is possible to keep the rice inside the cooker for next 24 hours in warm condition.
In general, it takes around 20 minutes time to complete cooking rice process; however, the time duration may vary from one model to another.
For gas operating rice cookers the cooking time may take more than 20 minutes time; for smaller quantity obviously cooking duration gets proportionately reduced.   
Using rice cooker operated by solar energy
Solar rice cooker is operated on solar energy and it takes longer time than the cooking time using rice cooker operated by conventional energy. The arrangement of solar rice cooker is completely different than general rice cookers. The mode of operating is also quite different because here you have to use sunlight as the driving energy source for your cooker.
Temperature of a solar cooker may rise more than 350 degree Fahrenheit therefore you should take double care while you may attempt to check the food. You should ensure double protection. Do not allow children to move around solar rice cooker while it is in use.
After knowing how to use rice cooker you must have a thought in your mind to introduce the latest rice cooker in your kitchen. Do it imediately and start using rice cooker to increase your kitchen efficiency right now.
Image credit: ifood.tv
How To Use Rice Cooker