What Do You Need To Set Up A Lemonade Stand

28 Mar 2011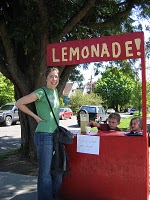 Set up a lemonade stand to makes some extra money for this summer. Yes! If you remember, this was a favorite time pass for few and easy way to earn some money for some.

Lemonade were usual around the corners in summer, however they are becoming more and more rare. Before lemonade stands were set up in almost every road corner, this was a fun way to earn some summer money. As I remember we had to hardly invest that much money to get started and the profit margins were quite high.
Step by step instructions on how to set up lemonade stand:
Setting up a lemonade stand is a cake walk. All that we need is a table, a sign board, some lemonade, and cups. However, there are a few other things that we should consider.
Pick up a well-sized table and few chairs.

 
Once done place the table where people will see it.

 
Placing the table in front yard can be an easy idea, however it can be more fun and profitable if you are allowed to put a stall in place where there is much crowd.

 
Check with your local library, mall, or grocery store if you can set up a small stand in front of their business.

 
Presentation matters a lot in any kind of business. May be big or small ventures, if presentation is good, business will be good.

 
Presenting the lemonade stand simple, can get boring! Instead you can have a bright table cloth, bright cups to serve and a good sign board can attract more customers.

 
You will get more attention at the lemonade stand if things are neat and nicely displayed.

 
Get creative with your creative effort for making a good sign boards.

 
Ensure that all letters and words need to be legible with bright colors.

 
Make sure to mark the price of your lemonade.

The most important thing not to forget is to sell lemonade correctly.

 
Have ample of freshly made lemonade ready.

 
Cold lemonade will be ideal for hot summer.

 
You can have the lemonade in pitchers or in a large cooler.

 
Stock the stand with good quality cups and paper napkins.
Few tips on making this small venture a success:
If it's the first time that you are setting up, take help of family members to set it up.

 
Have soda or ice tea as an alternative as not all like lemonade.

 
Set up a good place to put your stall and have your parents check out the local laws and ordinances to make sure your spot is legal.

 
Give complete information in your sign board like, the date, times, and locations that your lemonade stand will be open. Make sure to put them up a few days in advance.

 
Have sufficient change ready in advance to get started.

 
Have plenty of ice chests full.

 
Have the lemonade refills ready at home.
Set up a lemonade stand and sell the refreshing drink for hot summers. This can be a great opportunity for young kids to understand the language of business. This activity can be done on every summer and you can make it a charity event. This is a great way to build community support, and also allow you to help others in need.
Image credits: lilaeidi12.blogspot.com 
What Do You Need To Set Up A Lemonade Stand