How To Buy A Meat Cleaver

22 Mar 2011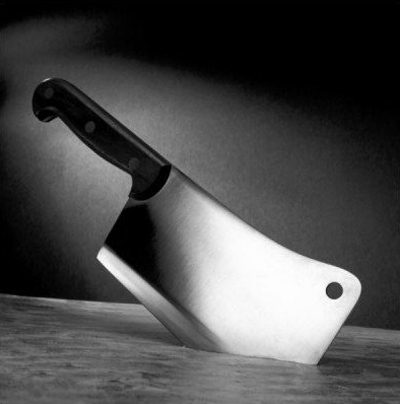 Meat cleaver is an important equipment in your kitchen and you should know how to buy a meat cleaver. This butchering equipment is primarily used for cutting meats and bones. It can also be used to cut the meat bones apart and you can use it to cut hard chicken pieces too. Therefore, choosing to buy a meat cleaver can go a long way in establishing your mettle as a good chef. Let's see how to buy a meat cleaver.
Choose the right size to suit your kitchen needs
Buy a meat cleaver of right size, a large meat cleaver would be too much for your kitchen. Those knives would look good and large but it is unnecessary for home use. A medium sized knife would be ideal for your kitchen use.
Get a high quality meat cleaver
While buying meat cleaver, you have to check the quality of the blade. Put some extra money to the get the top notch quality blade that would last lifetime. It is worth spending for the right meat cleaver as you can use it for many years. A good meat cleaver is made from high carbon steel and is well crafted. You can sharp it with finer edge and it can easily chop hard bones.
The fit of the handle
The handle of the meat cleaver should be made of good quality material. While buying a meat cleaver see that it fits in your hand well providing maximum grip. Also the meat cleaver blade is very heavy; the handle should be sturdy and long enough to balance the blade. Before you buy a meat cleaver, check the grip by holding it in your hand.
Keep in mind that meat cleaver is butchering equipment and not the one that cuts already portioned meat. If you do lot of home butchering, then you a buy a meat cleaver. Make sure to buy the right one to suit your kitchen use.
Image credits: 4.bp.blogspot.com 
How To Buy A Meat Cleaver