How To Buy Kitchen Equipment For Small Kitchen

18 Mar 2011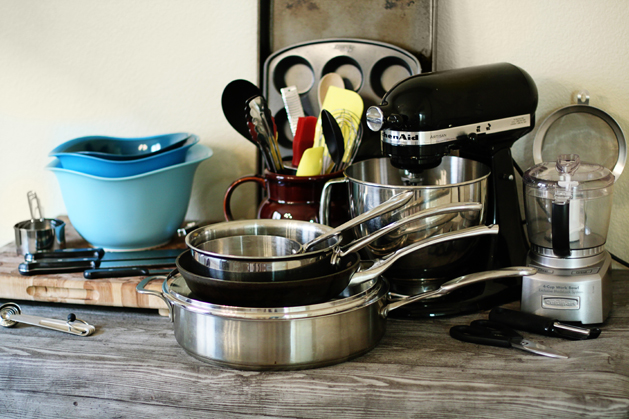 Kitchen equipment is the main aspect of a kitchen. Buying kitchen equipment for small kitchen requires meticulous planning. If you are faced with this challenge and don't know how to go about it, here are a few tips to help you out...
Basic Kitchen Equipment: the essentials
Depending on the functionality basic kitchen equipments are used in four categories. These are Cook ware, bake ware, dinner ware, and utensils. Whatever is the limited functionality or the size of a kitchen these four categories of kitchen accessories are always available there. 
Cook ware are the cooking pots for making foods. Different types of cookware available in market like non-stick cookware, ceramic cook ware, aluminum cook ware, iron cook ware, stainless steel cook ware, and clay made cook ware, etc The cookware of a kitchen is always used on the discretion of the user, however, it is better to use safe cookware in a small kitchen like non-stick, ceramic, clay or glass made cookware.
Bake ware are used for baking; the list of essential bake ware includes loaf pans, pie pans, roasters, casserole, and cookie sheets. Bake ware are available with different materials like porcelain, silicone, glass, and stainless steel, etc.
Dinner wares are meant for serving foods for dinning; in common kitchen dinner wares are used with glass, porcelain, plastic, ceramics, etc. A small kitchen may have all sorts of dinner wares or assorted kind of items as per the discretion and budget of the home owner.
Utensils and gadgets are used for food storage; both raw and cooked foods are stored in utensils. Utensils are commonly made of stainless steel, porcelain, and good quality plastics.
Useful kitchen accessories: space utilization
The utility of useful kitchen accessories include
Kitchen racks and tidies
Cabinet stores
Food storage containers
These arrangements in kitchen strictly vary from one kitchen to another and it depends on the space inside kitchen. Space saving cabinets and modular kitchen furniture can best accommodate all standard storage requirement of a small kitchen.
Retro accessories: modern kitchen equipment for small kitchen
Retro accessories add comfort and better level of functionality in a kitchen. Retro kitchen equipments are available on different modern looks and ultra modern feature. However a small standard kitchen should have these retro accessories
Ovens and microwave ovens
Pepper and salt shakers
Different types of timers
Refrigerators with reasonable storage capacity
Dishwashers
You can take the latest idea for retro kitchen equipment for small kitchen from various online shops and retail outlets.
Utility Kitchen Equipment for small kitchen
tility kitchen equipments are placed according to the internal arrangement of the kitchen; water sink, dustbins, bread bins, tea towels, apron holder,  lunch boxes are part of utility kitchen equipment for small kitchen. These items are integral part of kitchen functioning, regardless its size, however the taste, budget and lifestyle of the homeowner is largely reflected through these accessories.
It is always good to purchase utility kitchen equipment before anything else for they will give you the correct idea about the actual space available.
Image credit-ifood.tv 
How To Buy Kitchen Equipment For Small Kitchen