How To Light An All Wood BBQ?

16 Mar 2011
Lighting an all wood bbq can be an interes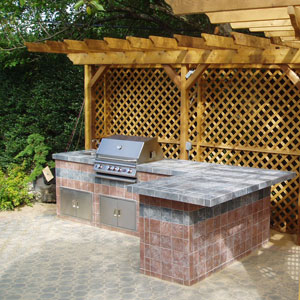 ting experience and ignite more passion in outdoor cooking. It is fun to provide smoky, dark flavor to your cooking by this way. All wood cooking might be a difficult job for some of you, but a tyro in this profession can admittedly do well by implying some simple, and effective tips. Let us find out some of the ways in which you can light an all wood bbq in the premises of your house.
 
Ways To Light Bbq
Selection of flat, barren space is must for maintain an outdoor lighting in bbq. The other ingredients you require are metal tongs, fire place, matches, wood logs.
You must make it sure that the chosen place is not near any flammable material and all inflammable things must be kept away.
Below the metal grit, place 10 pounds of wood to create fire. Loading more of woods might not be a safe option.
Next place four to five long sheets of newspaper and add fire to them starting from periphery. Then shrink the ball of paper and put this ball in the wooden mount and allow it to burn for some time, to create the warmth slowly.
Now the next step involves, creating true magic at your bbq lighting. Take some firelighters, and get it rolled inside the news paper sheets. Turn them into fire lighting balls and place this sheet and fire lighter ball inside the wooden grill of bbq.
Let it remain there for couple of hours. Now cover the top of wooden mound with few chunks of randomly arranged wood. Your objective should be to form a circular lighting mound at the base of bbq.
Now take some fire lighting paper balls and place them on the top of wood. You are supposed to arrange them conical or pyramidal way. Let me inform you that this conical formation will be permanently fixed and you cannot shift them.
Now lit up some fire balls at the base and allow it to catch up on the top of board. You will see the fire soaring in columnar way. Let this remain for 30 minutes.
Take your bbq tongs and start adding food for baking, and grilling purpose. You are ready with some freaky night ahead.
Image credit: ifood.tv
How To Light An All Wood BBQ?