How To Use Pressure Cooker As A Tandoor
15 Mar 2011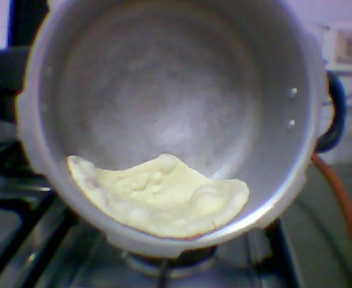 Most of us are under the impression that a tandoor oven is required to make the best tandoori rotis and naans. But, did you know that you could use pressure cooker as tandoor to prepare the same dishes in the comfort of your kitchen? For many of us, using pressure cooker as tandoor is a new concept. Traditionally, a tandoor meant a cylindrical clay oven where the heat is generated by charcoal fire or wood fire. The fires would burn within the oven and the temperature would reach about 480°C. In layman's terms, a tandoor is a transitional form between an earth oven and a horizontal masonry oven. This post is going to be about how one can use pressure cooker as tandoor. As times change, people really do come up with some ingenious ideas like this.
The steps to use pressure cooker as tandoor are illustrated below.
Make the soft atta (refined wheat flour) dough. Divide the dough into smaller balls. Roll out the dough balls using a rolling pin. Then, use a soft brush and wet one side of the rolled out dough.

As you roll out rotis, take a wide pressure cooker. Remove its lid and heat it on the stove.

Now, carefully take the rolled out roti dough in your hands. Place the wet side of the dough on the side of the pressure cooker. Be careful as you do this. Make sure that you do not scald your fingers.

Place the pressure cooker sideways on the flame. You'll have to do this to cook the bottom of the roti.

Now, invert the pressure cooker so that the uncooked side of roti gets browned.

And for the one final time, place the pressure cooker sideways on the flame to cook the roti completely.

Using a spoon remove the hot roti from the pressure cooker. You can cook the remaining rotis just the same way.
You need to remember this as you cook using pressure cooker as tandoor; each side of the roti must be on the flame for not more that 30 seconds. The roti will get cooked quickly, so care must be taken. You can drop a dollop of butter on top these rotis, and serve hot with a sabji of your choice.
So people, that is how the cookie crumbles... no..no.. that is how you use pressure cooker as tandoor to cook your favorite naans and rotis. Bon Appétit!
Image Courtesy: luv2eathate2cook.wordpress.com
How To Use Pressure Cooker As A Tandoor