How To Use A Wet Grinder

14 Mar 2011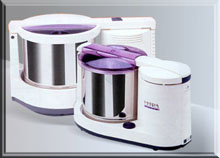 A machine which grinds a mixture with water is known as wet grinder. You can use a wet grinder to make paste out of lentils and grains. Though wet grinders find its use in construction and industry, it is most commonly used in Kitchens. Wet grinder is a very popular equipment present in every Indian Kitchen. These help them to prepare various pastes.  Also using wet grinder has many benefits over blenders and mixtures as it uses stone grinder which does not produce heat, therefore not alters the flavor of the food.
Before buying one, you should know to use a wet grinder efficiently and also it requires proper maintenance. If not maintained appropriately, it would not function properly. To avoid all this, better learn to operate it.
Unpack the cover and set the wet grinder as per the instructions. In the center of the grinder, fix the drum. Place it properly till it get fixed in the right position. Next take the roller mechanism and place it inside the drum.
Seal the drum by closing it with a lid, and lock it
Take a cup of water and pour it into the drum after opening the lid.
Switch on the grinder and wait for the stone grinder to speed up.
Through the open lid add the ingredients which you wish to make a paste. Do not dump all the ingredients, add them in small quantities else the wet grinder may get stuck. Also add little water when you add the contents to keep them moist. Add water to the contents till it reaches the desired consistency.
After a while when the ingredients are finely pasted, turn off the grinder. Remove the roller mechanism out of the drum.
Now keep the batter cleanser on top of the drum and cleanser keep the roller mechanism over the batter. This is done to remove the batter from the roller mechanism. Gently rotate the stones using hands to drop the batter to the mixture.
Now after clearing the batter from the roller mechanism, take out the batter cleanser and roller mechanism. Then remove the drum and transfer the contents from the drum to a container. You can also store the excess mixture in the drum.
Hope the above steps would be useful for you when you use a wet grinder.
Image credits: dualelectronics.com
How To Use A Wet Grinder