How To Choose Professional Kitchen Equipment?

9 Mar 2011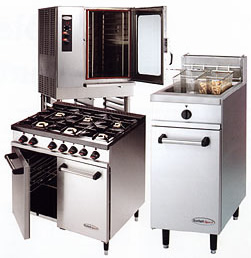 Even I was a novice in selecting professional kitchen equipment which would actually serve my purpose. In the initial days, I faced quite a few problems while choosing professional kitchen appliances. With experience and learning from my mistakes, I learnt how to choose professional kitchen equipment. So, here I take the pleasure of sharing with you some interesting tips on how to choose professional kitchen equipment.
Overview
When you are choosing a variety of utensils for your kitchen you need to ensure that you select some easy to use and classic utensils, because your utensils actually reflect your taste. You need to purchase a good number of pans and pots which can be used in a variety of purposes. When you are choosing professional kitchen equipment, do not miss to check their durability and functionality before you bring them home.
Choose your cooking appliances carefully like microwave, stove and even dishwashers. It is important to choose products which shall offer your kitchen a distinct look. If you are not an expert cook, do not go for the complex appliances initially. It is recommended to purchase professional kitchen equipment from reputed companies which shall ensure that you bring home good quality appliances. Do not make the mistake of not checking warranties issues and repair agreement terms whenever you choose to buy products.
Budget might be a problem with you, but you shouldn't always make pricing your only selection criteria and concern. You have to choose professional kitchen appliances after taking into consideration its adherence to safety concerns. Check for the quality assurance of all kitchen appliances before you bring them home.
You should always choose the necessary accessories first so that you can have enough time to check out all the appliances or equipment when you are choosing them. You should buy casters which are required for cleaning commercial gas range which is one of the most necessary items and is always missed from the purchases list. You can save money (in case you are in a tight budget) by purchasing the casters for the purpose separately. Do not miss out buying a good quality hose connector so that the gas source can be connected well.
When you are purchasing professional kitchen equipment, your main aim will certainly be profitability for your business. Thus, do some market research before you choose kitchen appliances so that you do not make an investment in the wrong kind of equipment which you might have to change later on. It is best to make a one time purchase in the best quality products so that you do not have to face any kind of problem when you are actually using such professional kitchen equipment. 
Image credits: greenbeancasseroleblog.blogspot.com 
How To Choose Professional Kitchen Equipment?