Tips to decorate your kitchen

16 Feb 2011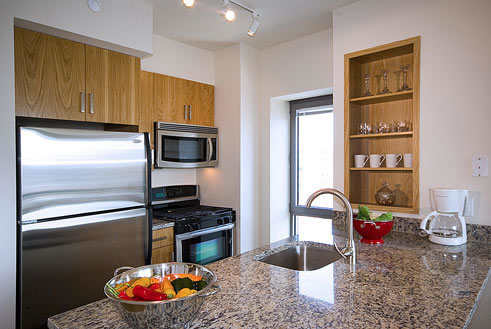 While a nice culinary inducing makeover is the prime way to decorate the kitchen, I believe decorating a kitchen must have a few essentials:
Clutter free- Remember that the whole idea to refurnish or redecorate your kitchen is to make the kitchen a warm and friendlier place to work at. Try out a few de-clutter ideas to decorate the kitchen. Go for hanging panels for your glasses. If there are cabinets, make sure you have shelves so that stacking up items is a neat fashion. Remember, shelves and corners done up nicely can be one of the best decorating kitchen ideas.
Be functional- To decorate your kitchen you don't need any useless décor items. Use all the goods you have on hand to increase the face of your kitchen. If you use it for food preparation, a decorative spice rack or canister set would be a great addition. A beautiful cookbook rack or countertop bookshelf would also be useful for keeping your cookbooks close at hand, in addition to adding a decorative touch. Other useful and yet functional additions include hanging a suspended pot rack, tiered wire fruit basket, wine rack, or wine glass rack over the island, to keep things you use frequently close at hand.
Colour them new!-If you stick to neutral colors, you can add accessories, art, or curtains in a striking color as an accent. To decorate a kitchen, one cannot ignore the vibrance that makes you swirl, sauté and dance to cook about with bright colors to cheer you up!
Neutral colors also sell if you decide to decorate your kitchen and these decorate a kitchen ideas are all about bringing in the new and re-utilising the old!
Appliances- If your appliances are in good working order, you can update their look by painting them. If you are afraid to do it yourself, take them to an automobile paint shop and have it done. It is well worth the expense, which will be much less than new appliances.
Countertops- New countertops are available at most home improvement stores in standard sizes. They are precut and ready to install. Since, decorating a kitchen can be a pocket affair, colourful or functional kitchen counter tops are really good ideas.
Tile your Floor –This is the ground reality when it comes to decorating the kitchen. The new styles of press and stick vinyl tiles look surprisingly high end. And they can be quickly installed. Try the new styles that look like slate - beautiful!
 Hang those pots!- Take those pots and pans out and hang them up! They increase your functionality since, they will be easily accessible and will be a visual delight!
Kitchen Islands in the dream!- These ideas to decorate a kitchen are the best in case you are short spaced in your kitchen. Make a central Kitchen island with or without the range. Remember, for seating you can use colourful and bright bar stools that are easy to sit on, and add to the decorate a kitchen idea. These stools can be pushed under the kitchen island later, and your kitchen will look as good as new!
I hope these tips to decorate your kitchen are handy. Since, my basic fundamental for any change involves lot of financial functionality, all these changes to decorate a kitchen are on a shoestring budget.
Image Credit- Personal Collection
Tips To Decorate Your Kitchen