Top 5 Household Kitchen Products Brands
16 Feb 2011
The field of household kitchen products is teeming with players all over the world. Household kitchen brands need to have to have a real edge over others in order to survive the competition. With time getting more precious by the day people have lesser time to spend in the kitchen and would like their tasks to be simplified with some kitchen aids. Which are the leading competitors in the market today? Here's an overview.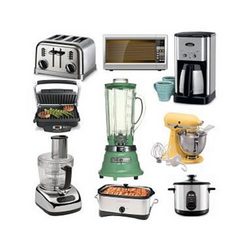 5) Morphy Richards: A UK based brand which is now over 70 years old and has been manufacturing and selling kitchen appliances since the 1930's. At the time they had started out with pressing irons and toasters; now they have diversified and have a wide range from simple toasters and coffee makers to very specific kinds of cookers and bread makers.
4) Miele: A much older player in the kitchen appliances game, Miele was established towards the end of the 19th century which means they have seen an entire century of kitchen appliances. Founded by Carl Miele in Germany it now has a global presence. Their very first product was the cream separator. Now they have the entire household range of appliances. Kitchen is one section of their products but this is not to say their kitchen range is limited.
3) LG: A company that promises that with their products "Life's Good". Their online website is very eye-catching once you enter the "kitchen experience". They not only have individual kitchen appliances sorted according to their functions, they have also kept up with the times and offer appliances as a function of the style of kitchen you have; be it farmhouse, contemporary, ultra-modern, traditional or eco-friendly.
2) Braun: This is yet another German company. Their kitchen and household section concentrates on small appliances such as mixers, juicers, coffeemakers and handheld blenders.
1) Diethelm Keller Brands (DKB): An exclusive kitchen appliance dealer. They can be referred to as the "specialists" because DKB has several specific brands under its umbrella. For example they even carry 'Cole&Mason' who are known to sell only salt and pepper mills, yes that's how specific they get. Similarly they have TurMix for mixers and blenders, OutdoorChef for grills and outdoor cooking and Zyliss for cutting, chopping and peeling solutions.
Image credit: indiamart.com
Top 5 Household Kitchen Products Brands