Tips To Buy Commercial Pizza Equipment
15 Feb 2011
Tips To Buy Commercial Pizza Equipment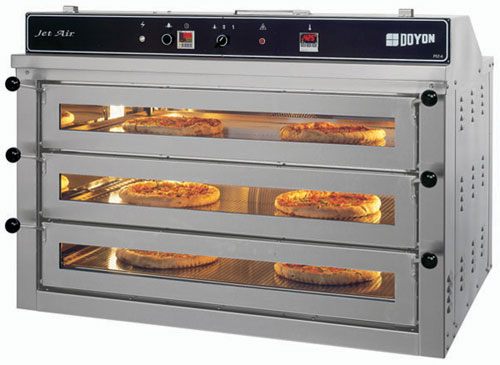 According to me, Pizza, the delicious savoury Italian pie, is crafted with utmost care by using the best commercial pizza equipment in all the food outlets.  The need for commercial pizza equipment is based on the customer base and the size of the pizza outlet.
If you want to buy commercial pizza equipment then you have to prepare a list of all the equipments and their production capacity.  This will help in focusing on each equipment with regard to its cost, style, and functionality.  The pizza oven is available in various styles.  If you have a small kitchen then you can opt for a conveyor belt pizza oven as it takes less space and produces enough to cater to an average of forty people in an hour.  If you have a huge kitchen (i.e. more than 2000 square feet) then you can easily install the brick oven or the wood fire oven.  Please ensure that you select a trusted vendor for these ovens because a lot of labor and cost is involved in installing them.  If the bricks are not set properly then you will be left with a rubble of brick after a week of operating the oven.  Another important aspect is that you should always learn to operate the ovens as precisely as possible.  They are the base of the production and hence need to be handled carefully.
The dough makers can be bought second hand from the bakeries or culinary institutes.  It is preferable that you should also buy the measuring cups and mixing bowls from the same place that you buy the dough maker.  The wooden trays, for resting the pizza dough, can be prepared by a carpainter in accordance with you specifications.  The trays need to be of the same size and should have at least six to ten inches of height.  This will ensure that they can be stacked to occupy less space yet serve the purpose for the dough to rise properly.
All the ingredients need to be readily available since pizza is prepared within minutes.  You can buy the ingredient table that has separate containers in a line.  On this table the containers are in an elevated and slanted posture along with the work surface.  Lastly, a good oven spatula is required.  Please ensure that the handle of the spatula is wooden as it does not conduct heat.  However, the handle needs to in accordance with your oven, e.g: for a brick oven you need a two or three foot long spatula.
Tips To Buy Commercial Pizza Equipment