How To Tile Kitchen Backsplash
14 Feb 2011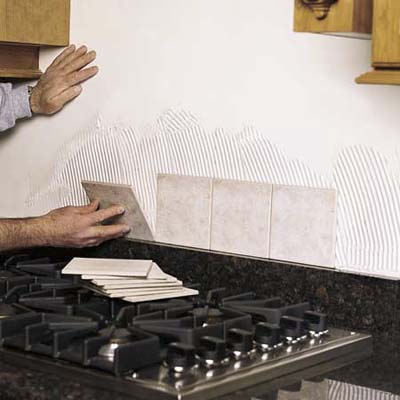 Kitchen is the room in the house that bustles with activity and a gathering place for the family. The kitchen backsplash is a wall area in the kitchen that is often neglected. Here are a few tips on how to tile a kitchen backsplash and make it an attractive focal point.
You could use kitchen tiles of any kind. Ceramic tiles that are brightly colored would be a good choice or tiles that go with the kitchen theme could be selected. You could take into consideration the cabinetry and other kitchen appliances to color co-ordinate it. Tiling kitchen backsplash is an easy and hands-on job. It can be done by us by following the instructions.
Requirements for kitchen backsplash tiling:
Decorative tiles, Field tiles and border tiles, tile mastic, 80 grit sandpaper, measuring scale, screwdrivers, marker pencil, grout and caulk, rubber float for caulk, and trowel. Tile cutter and wet saw if needed.
Procedure for installing backsplash:
It might be a good idea to arrange the tile pattern on the ground first, use it for measurement on the wall.
Remove any switch plates and covers to clear up the area.
Hand sand the back wall paint with 80-grit sandpaper to roughness. A rough surface will help tiles stick better. Wipe out the dust with a rag cloth.
Use the edge of a V-notch trowel to evenly spread the mastic or thinset across the wall to place 6-8 tiles at one time.
Start placing the tiles from bottom up flush with the counter top line with just enough space for the grout in between. You could place alternate colored tiles if you wish to.
Start placing the tiles above it until you hit the edges of the counter. Cut the tiles smaller with a tile cutter if you need smaller pieces. Tile cutters can be borrowed from the stores for 10 -20$.
If you need to trim the corners of the tiles to fit around the counter spaces then use a wet saw.
Allow the mastic to dry overnight. Then mix the grout following instructions on the box. Now run the grout with a rubber float over the tiles evenly getting it into the wedges between the tiles.
When you are done grouting clean the surface with a wet sponge to remove excess. Wait for 3-45 minutes before cleaning the tiles thoroughly.
Squeeze caulk all around the edges and the small joint-spaces with the counter tops and cabinetry rubbing it in with your finger.
You could use similar techniques with other kind of tiles for kitchen backsplash, keeping these kitchen ideas in mind.
Image Credit: thisoldhouse.com
How To Tile Kitchen Backsplash