How To Design A Traditional Kitchen
13 Feb 2011
If you are designing your own kitchen, take traditional kitchen ideas into consideration. Traditional kitchen designs are not only economical and cost-effective, they also add up to the beauty of your kitchen – a space that is going to remain very close to your heart for a lifetime, probably.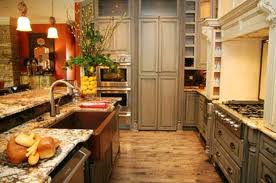 Your kitchen is should quintessentially replicate your idea about living. Not only can it be used to prepare food, your kitchen can also be big enough to entertain guests over a well-cooked dinner. Traditional kitchens exude an air of formality and are elegant. They mostly have wooden finishes in place of fiber and other modern materials. The finishes will be mostly white, there will be detailed paneled cabinet doors, the drapes and wallpapers will be formal and very elegant, counters tops are made of either granite or marble with fixtures in brass. These are certain aspects you might want to keep in mind before designing your traditional kitchen; however, no rules are hard and fast. After all, it's your kitchen and you have every right to design it according to your taste.
Visualize what your kitchen wants to look like. If you are good at drawing, prepare a rough sketch and make it as imaginative as possible. If you are not good with pencil and paper, there are online resources available to help you with your drawing or making a kitchen plan.
Websites like houzz.com provide very useful ideas and resources to design your traditional kitchen. Read their section on traditional kitchen ideas and get inspired.
While making your plan pay extra care to position your cabinets (wood is better), your electrical appliances and fixtures. Besides, countertops provide the kitchen with certain elegances. Go for marble or granite counters. Also pay attention to the carpet color.
Try these tips and always keep in mind that your kitchen is what you are. Enjoy designing it.
Image Credit: theshoppingmom.com
How To Design A Traditional Kitchen