Tips For Painting A Kitchen
11 Feb 2011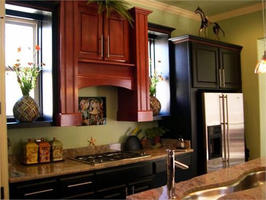 Kitchen is the best part of a house and quite a lot of time is spent there cooking and washing vessels.Kitchen should look neat and good as it is a important part of the house.Here are a few tips for painting a kitchen and sprucing it up.
A lot has changed over the years and more efforts are being made to make the kitchen as attractive as possible. The walls have been broken down and now it is part of the living room space. Painting a kitchen can be fun and the end result can be rewarding.
These days adding pleasing colors with dramatic cabinets and re-arranging the layout increases the re-sale value of the house. If the kitchen is dark with less light then a dramatic change to neutrals or soft sandy texture and color might enhance the kitchen.
If it is a small kitchen then soft sage green or light yellow textures will add to the brightness of the room and give it a spacious feel. Bring on bright trims and watch the dramatic transformation.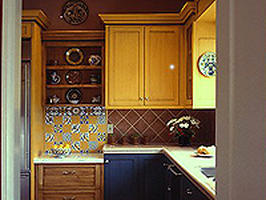 Big kitchens can be made attractive with a color splash. Add a dash of brick red or intersperse with grey and brown going with your favorite shades. Neutral grey is prominent for stunning looks. Add on vibrant colors if the room is big and well lit. You will enjoy staying in the kitchen longer when it looks all warm and inviting.
These days there is minimal wall space with the cabinets, overhead hoods and microwave taking up the wall space- In which case the exposed wall area can be brightly painted with colors to accentuate the existing walls. Bolder colors to complement steel appliances and dark cabinet colors would be appealing.
Aztec clay colors, copper, henna, ginger and gold are nice. Stainless steel sink with burnt orange or red counter-tops are a good combination. Tiles can be used around colored cabinets. Single colors may appear flat so a combination of two colors can be used.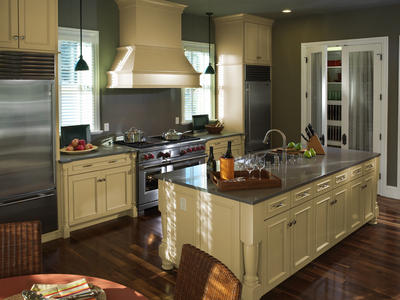 Country kitchen usually has a rustic green with strawberry red trims. A cool pink adds to the rustic looks. These days relaxing silver blues, gray-greens and browns are in vogue. The Color Marketing Group an international non-profit association having more than 1000 color designs has introduced new colors. Pantone announced new color schemes with 'Agrestic', 'Savories' and 'Ethnic chic' a mixture of colors some vibrant, some whimsical and some sophisticated.
Give wings to your imagination when it comes to colors and watch how your kitchen gets transformed with kitchen painting ideas.
Image Credit: HGTV.com
Tips For Painting A Kitchen