Top 5 French Country Kitchen Ideas
11 Feb 2011
Top 5 French Country Kitchen Ideas
A French country kitchen can be created in your home through the below french country kitchen ideas. French country kitchen ideas work solely towards creating a warm and inviting kitchen. France is legendary for being the finest in food. And that is why a French kitchen should supplement your desire for finesse.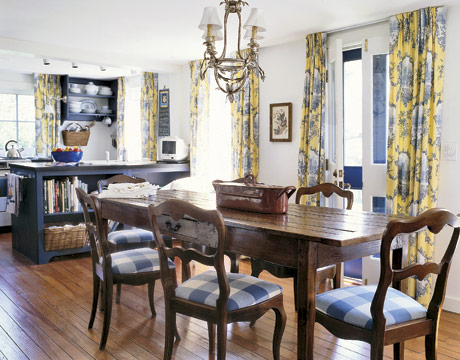 Some kitchen ideas and designs for a French country kitchen are:
Utnesils: In a French kitchen your utensils should be preferrably ceramic or earthenware. You can use glazed ceramics as serving bowls for soups, stews, and even curries. The earthenware can be used with simple cloth napkins as bread baskets or to keep the munchies. A wood chopping board is essential.
Walls & Interiors: The interiors can be in pastel colors and that can be coupled with a painting or photograph of food or fruit or vegetable framed in a simple wood panel frame. You can also opt for the wallpaper with beautiful and minute flower motifs for your french country kitchen walls. Make sure that the motifs are not large or loud. The floor can be in earthy colors and for that you can either use wood or sandstone.
Furniture: Usually in a french country kitchen there is a preparation table in the center of the kitchen. The table top can be of wood, waxed or unfinished. Dining table can again be of wood with wrought iron integrated at the base. The chairs can be of wrought iron with the fabric of the cushions matching with the colour of the walls.
Upholstery: The fabrics used in a french country kitchen are cotton or linen. The idea is to keep warm interior. The fabrics can be in the pattern of checks, lines, or flowers. A twead runner on the dinning table works very well with the contrast of a plain cotton table cloth in a beautiful shade of faded sunshine yellow. Your kitchen napkins, oven mittens, and curtains should be in the same color theme or in contrast that you have adopted for your walls.
Weaves: Woven baskets are a must in a French country kitchen. You can use them for keeping the vegetable, herbs, fruits and even breads on the kitchen counter or preparation table. Herbs kept in woven baskets will spread an inviting aroma to your cozy French country kitchen.
Image credits: countryliving.com
Top 5 French Country Kitchen Ideas