Tips To Design An Appartment Kitchen
10 Feb 2011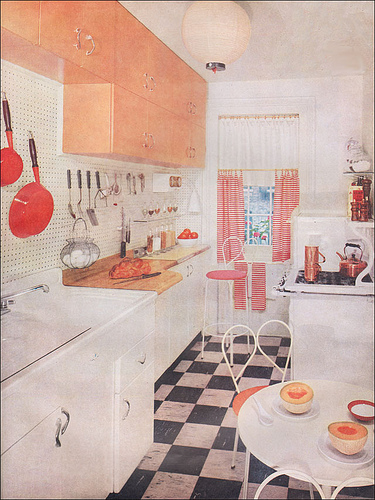 Tips To Design An Appartment Kitchen
If you are planning to rewamp your apartment kitchen then we have the perfect apartment kitchen ideas for you.  These apartment kitchen ideas are cost effective and can be modified in accordance with you personal preferences.  An appartment kitchen has to have all the basic facilities yet the apartment kitchen designs should provide quick results.
Firstly, you can paint one of the walls in your apartment kitchen in a bright pastel color like sunshine yellow.  The color on this wall will reflect light from all the sources, hence, it your apartment kitchen will appear cheerful yet spacious.  The cabinets can be mounted one of the walls, which should not have any windows, at you shoulder level so that you can easily access them.  If you have a window you can place a flower pot or grow your own herbs in a rectangular basin placed on the window sill.  Basil, coriander, thyme, and rosemary  grow very fast if taken care of properly.
The counter can be created with a marble or granite top.  It is slightly expensive but it is a permanent solution.  Beneath the counter you can again have cabinets.  The gas stove should be preferrably near the window so that the fumes can exhaust quickly.  If you do not have a window you can also install a mini electric chimney or else scrub the cabinets and the kitchen top weekly with soapy solution to ensure that all the grime is removed.
You can also include a small dining table in your apartment kitchen.  It can seat four or two.  If the above apartment kitchen ideas are implemented then you can have a beautiful and cozy apartment.  You can spruce up the interiors to you accordance.
Tips To Design An Appartment Kitchen