Tips To Design Island Kitchen
10 Feb 2011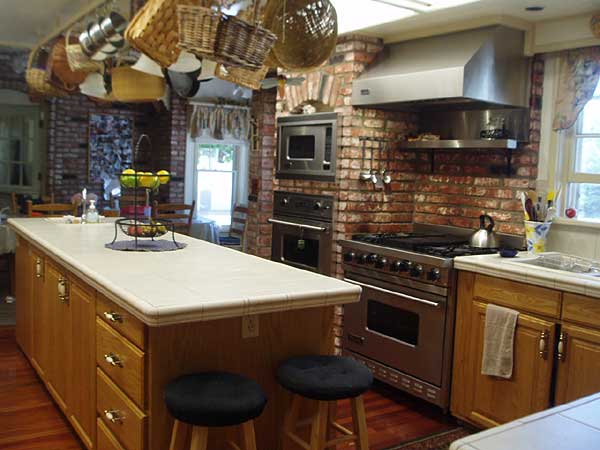 Kitchen islands are the hub of activity and an important addition in any kitchen. There are several tips to design an island kitchen. As the size of the kitchen expanded in 1970's, the size of the kitchen islands also grew correspondingly. There are island kitchen ideas that can be looked into before you decide to install one in the kitchen.
A few pointers have to be remembered before going for this venture that will cost you additional expenses but adds value to your house
Kitchen Islands are the center of family activity in addition to being the cooking hot-spots. Some islands are used only for dining while some others have the cooking stove installed in it with a sink and other accessories. The family can now sit around and share in the cooking and family activities.
Tips to Design Island Kitchen:
It is important to have enough space in the kitchen to install an island. A small kitchen with an island will make it cramped with lack of cooking space. At least 3 ft of space around the island is necessary to enable free movements.
The island should be at least 2 ft deep and 4 ft long. A longer 6-10 ft is ideal if you have the space. The longer and bigger it is more can be accommodated on it.
The width should be just enough so as to be able to reach around and clean while cooking.
Cabinets with desired trims can be installed in the islands. Cabinets found hold spoons, ladles and cooking utensils or other accessories like pots and pans.
Some islands have canopies on top to hold hanging pots and pans while most islands have fancy hanging lights or track lights running from the ceiling for more illumination in the center.
The island should not slide, move or tilt when leaning against it. They should preferably be entrenched in the ground. Thin fasteners through the sides into the blocking.
Some install a second sink in the island or a stove top.
It might be a good idea to speak to a knowledgeable interior designer to figure out what exactly your kitchen needs and how it can be designed in the given space.
The uses of a kitchen island are limitless and can add more value to your house if installed. Kitchen Island is also a vortex for aggregation of family members and converse in the kitchen while the cooking is ongoing.
Image credit: Kitchen Island Design
Tips To Design Island Kitchen