How to Design a Beach House Kitchen
10 Feb 2011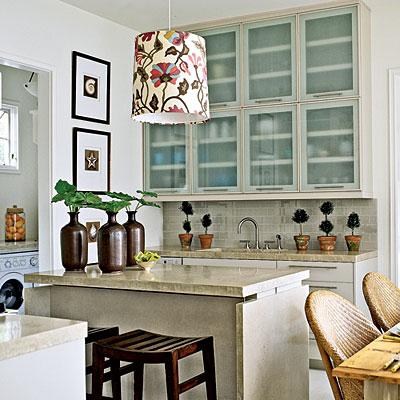 After reading through this blog you will get an idea of how to design a beach house kitchen.
If your home is situated on the beach, you should decorate its interiors well. Use soothing colors and easy to care for materials to decorate a house. We also have tips on how to design a beach house kitchen. While doing so you must carefully choose the cabinetry, furnishings as well as the decorative accents.
Color Choice
Pick colors that that are associated with the beach naturally. They will make it seem like the outside is flowing inside.  Aqua and sea green are great choices, as they are the natural colors of the sea and sky. Other color choices that you have are hues which are closely associated with the sand. You can go for shades like tan, beige or taupe. Cobalt blue and white must be your choice if you want to create a more nautical look. Some shades of pink, like coral and salmon, also tend to evoke pictures of the beach. All these colors can be used to paint the walls, in the flooring, on the countertops and also in your kitchen's decorative accessories.
Cabinetry

Cabinetry is a vital fixture in a kitchen, as it offers necessary storage space. Cabinetry can help to obtain a specific look too. In a beach house kitchen, a light wood like maple, pine, birch or oak works the best. Whitewashed cabinets also look good. The front doors of a kitchen that are made up of glass make room seem open and airy. A beach-inspired design etched on the glass makes it quite interesting. If you want your kitchen to be spacious you must use floating shelves for storage instead of cabinets.
Countertops
While choosing a countertop for a beach house kitchen, you must choose a material that not only suits the look but is durable enough to bear the wear and tear experienced in a kitchen. Travertine or light-colored granite is heat and scratch-resistant material. This material with beachy look is an ideal choice for a kitchen countertop. Tough ceramic tiles in a color that matches the rest of the space can be also be used. 
Beach-Inspired Accessories
Accessories help to bind the look of a beach house kitchen together. Wicker and rattan baskets can be hung on walls to add style and you can pick them to serve bread or chips whenever needed. You can use stainless steel salt and pepper shakers and creative napkin holders. You can flaunt prints of beach landscapes on the walls of the kitchen. Lay a rattan rug on the floor that will warm up the space.
image credits : home-decorating-reviews.blogspot.com/
How To Design A Beach House Kitchen